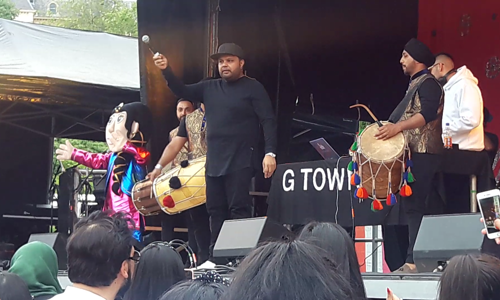 Gtown Desi is a group like no other. They played on the Glasgow Mela mainstage last Sunday and the crowd loved them; their interactive performance was exciting and their multi-cultural music totally unique.
Glasgow UNESCO City of Music spoke to the group's DJ Bobby B. He's hosted mixtapes for BBC Asian Network and had several no.1 hits himself.
How did the Mela go?
It's always good because it's a multi-cultural event and you get to experiment with music and play different genres to get everyone lively and into the party vibe. From what I've heard, we were one of the busiest performances at the Mela this year.
How much do you practice before an event?
I've been doing it for the last twenty years – I can't ever prepare for a set because you don't know what's going to happen. It's just a case turning up, seeing what the crowd's into, what they're vibing off and then play whatever you think will make that party rock and make sure everyone's dancing.
Are you a full-time DJ?
I'm a full-time DJ, I DJ all over the place so I'm just back from Marbella – I came through from Marbella to the Glasgow Mela, performed that the Shawlands Street Festival and then the Glasgow Mela on Sunday. I flew out to Vienna this morning, I'm playing here tonight and then I'm in Ibiza the week after next.
Are you a one-man band or is it a team effort?
There are 12 of us although so it depends what we're booked for - we can have DJs, drummers or MCs, it just depends what we're booked up for. We play all genres of music – I do Asian stuff, R'n'B, House, I do garage so it's across the board and it takes me around the world.
Why's the Mela important, in your opinion?
I think it's good to get all the cultures together and embracing all the different activities that happen on that day. We're a multi-cultural DJ band so we play different genres of music – it's good to be able to see that kind of music and everyone in the community gets involved and they can pick up a piece of somebody else's culture.
How has Glasgow affected your music?
Glasgow's where I was born and brought up. It's got me across the world – I've moved around playing music and it's Glasgow where I entered the music scene, playing in clubs. Glasgow's my home and where it all began.