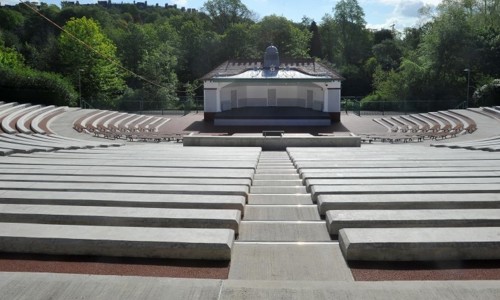 Summer Nights at the Kelvingrove Bandstand
Summer Nights at the Kelvingrove Bandstand
Now in its sixth year, Summer Nights at the Kelvingrove Bandstand has become an integral part of Glasgow's music calendar after the venue's renovation was completed in 2014.
This year will see a cross-genre mix of both Scottish and international acts – with such a range that there's certainly something for everyone.
Scottish heroes Teenage Fanclub are back this year (Tue 30 Jul). The alt rock band took the stage in 2014 during the first bandstand festival, having followed Belle and Sebastian's opening performance.
Bandstand veterans Echo & the Bunnymen are also back after playing in 2015.
This year will also see music from indie band National (Tue 6 & Wed 7 Aug), whose music has been featured in the Game of Thrones HBO series, to 80s hitmakers the Human League (Sat 3 Aug) and punk innovator Patti Smith (Thu 1 Aug).
Mark Mackie, Director of Regular Music said:  
We are delighted to have such an incredible array of talent, both home-born and international, including some true music legends, all performing at Summer Nights this year.

Kelvingrove Bandstand has such a fantastic atmosphere and the feedback we have had from both artists and audiences is that they have a great time being there
The full line-up includes Caro Emerald (Sat 27 Jul), Suede (Wed 31 Jul), Father John Misty (Fri 2 Aug), Echo & the Bunnymen (Thu 8 Aug), Bloc Party (Fri 9 Aug) and Hue & Cry (Sat 10 Aug). But it all kicks off with the classic easy listening of Burt Bacharach (Fri 26 Jul).