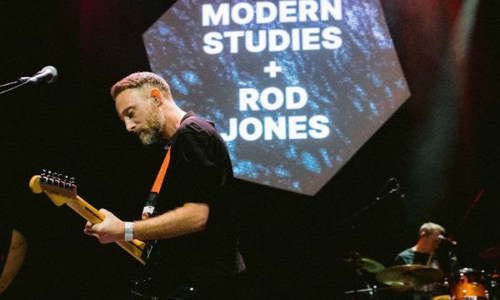 The Scottish Album of the Year (SAY) Award announces Longlist
The Scottish Album of the Year (SAY) Award announces Longlist
Scotland's national music prize, The Scottish Album of the Year (SAY) Award, have announced the 20 outstanding albums which have made it onto this year's Longlist.
The SAY Award celebrates, promotes and rewards the incredible strength and diversity of Scottish music. An outstanding 293 album submissions were narrowed down by 100 impartial music industry nominators who voted for their favourite new releases. Spanning a wide range of contemporary music genres and styles, the results were revealed in front of a live audience at The Queen's Hall in Edinburgh on Friday 26th July.
Speaking about the longlist announcement, General Manager of the SMIA Robert Kilpatrick said:
Each year, the announcement of The SAY Award Longlist allows us to take a step back and feel proud of our cultural identity as a nation. It gives us a chance to both shout about and reflect on who we are, as well as celebrate the passion, creativity and vibrancy of Scottish music; in all its incredible diversity and glory
The Shortlist will be chosen by music fans who get the chance to vote for their favourite act. The final winner, selected by a panel of judges, will be awarded £20, 000 by Creative Scotland and the coveted title of 'Scottish Album of the Year'.
The 72-hour public vote opens on 12th August, closing on 14th August before the Shortlist is announced on 15th August as part of a special BBC Radio Scotland show from 9pm.
In alphabetical order, here's the Longlist –
Aidan Moffat and RM Hubbert – Here Lies The Body
Aidan O'Rourke – 365: Vol. 1
Andrew Wasylyk – The Paralian
Auntie Flo – Radio Highlife
Brìghde Chaimbeul – The Reeling
C Duncan – Health
Carla J. Easton – Impossible Stuff
CHVRCHES – Love Is Dead
Edwyn Collins – Badbea
Fatherson – Sum Of All Your Parts
Fergus McCreadie Trio – Turas
Free Love – Luxury Hits
Graham Costello's Strata– Obelisk
Karine Polwart with Steven Polwart and Inge Thomson– Laws of Motion
Kathryn Joseph – From When I Wake The Want Is
Kinnaris Quintet – Free One
Mastersystem – Dance Music
Niteworks – Air Fàir an Là
Sean Shibe – softLOUD
The Twilight Sad – It Won/t Be Like This All The Time
The award ceremony, announcing the winning album, will be held at the Assembly Rooms in Edinburgh on 6th September.
Now in its eight year, previous winners of The SAY Award include Young Fathers 'Cocoa Sugar' (2018), Sacred Paws 'Strike A Match' (2017), Anna Meredith 'Varmints' (2016), Kathryn Joseph 'Bones You Have Thrown Me And Blood I've Spilled' (2015), Young Fathers 'Tape Two' (2014), RM Hubbert 'Thirteen Lost & Found' (2013) and the inaugural winner Bill Wells and Aidan Moffat 'Everything's Getting Older' (2012)