The Wee Write! Family Day takes place on Saturday 2 March and is full to the brim of authors, storytelling and workshops. To help guide you through the jam-packed programme, we asked the team behind Wee Write! to share their highlights.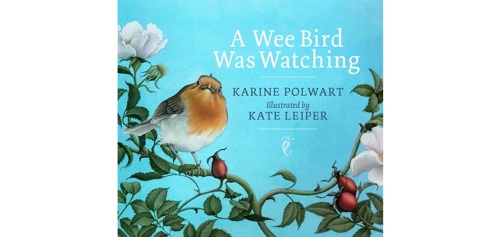 Karine Polwart & Kate Leiper
A Wee Bird Was Watching
3pm | Ages 3–7 | Book tickets
I really struggled to pick a must see but then I started to look through all the different books and this one for me is a stand out – A Wee Bird was Watching. Its amazing illustrations, the sounds and repetition of the story just flows! We have a Karine and Kate tag team where they will join the families in this fabulously insightful and inspiring session and you even get to draw your own wee bird! I can't wait to see this session in full swing!
Fiona Haddow
Reader Development and Literacies Officer & Wee Write! 2019 Programmer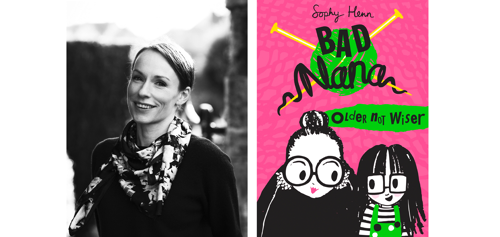 Sophy Henn
Bad Nana
12.15pm | Ages 6–9 | Book tickets
While there are lots of great writers coming to the family day, I am especially excited to see Sophy Henn, author and illustrator of Bad Nana: Older Not Wiser. The book is bright and sassy, both in story and in illustrations, and Sophy seems like she has a personality to match! Bad Nana is an inspiration for her granddaughter Jeanie and she proves that you are never too old to live your best life. Honestly, she's an inspiration to me too!
Lizy Newswanger
Learning Assistant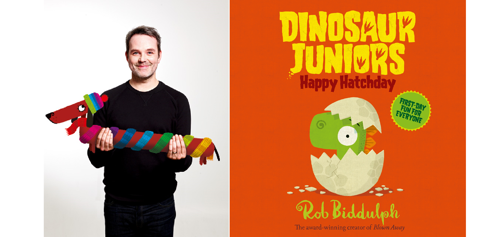 Rob Biddulph
Dinosaur Juniors: Happy Hatchday
10.45am | Ages 6+ | Book tickets
Can't wait to see Rob Biddulph work his magic! Rob has won and been nominated for too many awards to mention, and is now named as the Official World Book Day Illustrator for 2019 and 2020, what more enticement do our young readers and budding illustrators need to get themselves along to meet him in person. I guarantee his storytelling and drawing activities will captivate both children and adults alike and have everyone hooked on his books before they leave.
Christine Stewart
Learning Services Co-ordinator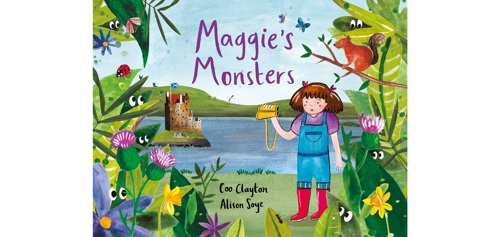 Coo Clayton & Alison Soye
Maggie's Monsters
12.30pm | Ages 3–8 | Book tickets
Maggie's Monsters by Coo Clayton and Alison Soye is another winning book from this duo and a must see in my eyes. I love the fact that Maggie goes on a journey through Scotland looking for monsters, and instead of finding monsters, finds an abundance of Scottish wildlife. Beautifully illustrated by Alison Soye, with many Scottish landmarks and beauty spots that anyone will instantly recognise – and the monsters of course!
Sharon Cuthel
Library Assistant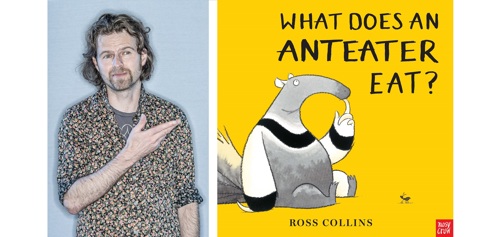 Ross Collins
What Does an Anteater Eat?
4.30pm | Ages 3–7 | Book tickets
What Does an Anteater Eat? is up to Ross Collins' usual brilliant standard. It is always a joy to see the expression on characters' faces and body language as they move across the pages. This is no exception and had me laughing out loud. I anticipate lots of fun and laughter, chat about favourite food and, of course, families reading this book again and again. A chance to see Ross is not to be missed.
Laura Hogg
Librarian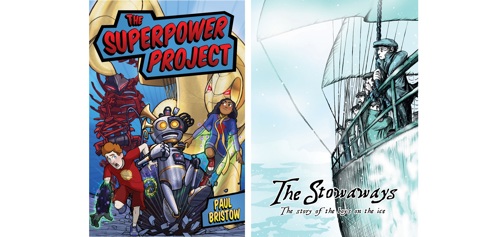 Paul Bristow
Super-Powered Stories – Comic Making Workshop
3pm | Ages 8+ | Book tickets
Comics, what can I say, the art of bringing people from across the globe together – villains, heroes, different, strange, disabilities, special abilities, outcasts, victims, different races are all included. We can all imagine their plights and be them, with this event you can bring your characters and adventures to life, create them, embrace their challenges and live their story for them. This is an exciting event as you can be the hero or villain or tell a funny tale, go wild with dragons and monsters – it's all there in your imagination ready to be told as you see it. If you are a fan of comics this is not to be missed.
Elizabeth Gough
Library Assistant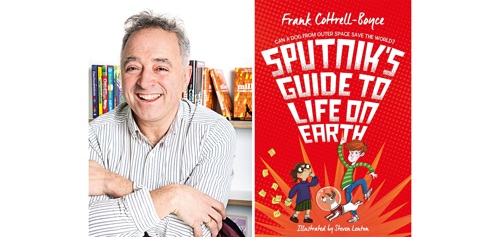 Frank Cottrell-Boyce
Sputnik's Guide to Life on Earth
3.30pm | Ages 9–12 | Book tickets
When you decide an absolute children's classic by one of the nation's most revered authors deserves sequels, who do you get to write it? In the case of Chitty Chitty Bang Bang, it was Frank Cottrell-Boyce who was asked to continue Ian Fleming's story. Frank, who has also written stories for Doctor Who, is bringing Sputnik's Guide to Life on Earth to Wee Write! A story about Prez, who lives with the Blythe family and a long lost relative called Sputnik. A must for everyone with their nose in a book exploring the skies above and the galaxies beyond!
Gordon Boag
Press Officer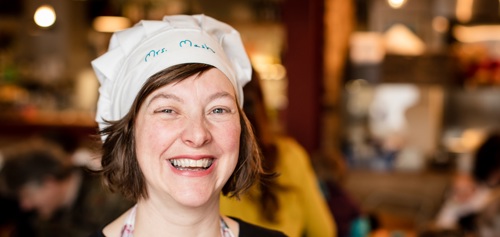 Marie Louise Cochrane
Mrs Mash Storytelling Cookbook
10am | Ages 3+ | Book tickets
A fantastic session with storytelling, singing and food based adventure! Mrs Mash has it all going on. She is magical and mesmerising, using stories and songs and food activities to help as many people as possible to enjoy good food and the benefits of eating well for health. Looking forward to seeing this!
Janette White
Senior Parental Support Assistant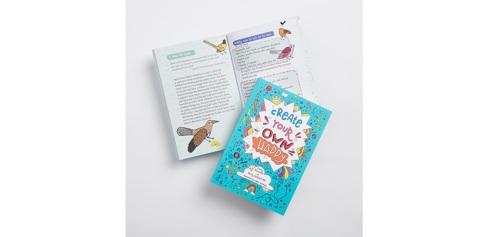 Becky Goddard-Hill & Penny Alexander
Create your Own Happy
4.30pm | Ages 8+ | Book tickets
Looking forward to this insightful session set to encourage kids to innovate while enjoying day to day life, this book is a must read! With many of us struggling to motivate ourselves and remain upbeat, finding inspiration to maintain happiness can be a challenge. However, this wonderful activity book is full of inspirational ways for children to be productive and have fun at the same time. If you're unconvinced, all you have to do is drop in to the workshop, see some of these ideas in action, and witness just how many smiles fill the room.
Claire McCluskey
Senior Library Assistant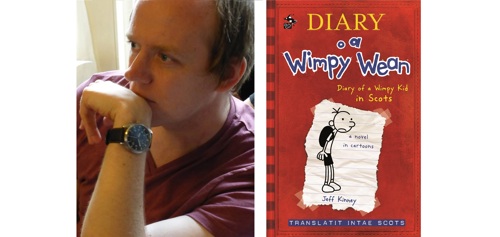 Thomas Clark
Snoof Ma Gandie! From Wimpy Kid to Wimpy Wean
1.45pm | Ages 7+ | Book tickets
Just when I thought Diary of a Wimpy Kid couldn't be any funnier, Thomas Clark translates it into Scots and takes us on a hilarious journey through Greg's Scottish school year. Greg has been transported and takes us through his trials and tribulations in glorious Scots. Sometimes life is a pure nichtmare and being a wean is bowfin but Thomas keeps us all laughing with his every day banter. From September to June, every page in Greg's journal is peppered with simple, brilliant cartoons, making it a really enjoyable experience. I'm really looking forward to seeing how Thomas brings Greg's journal to life.
Frances Bradley
Learning Services Co-ordinator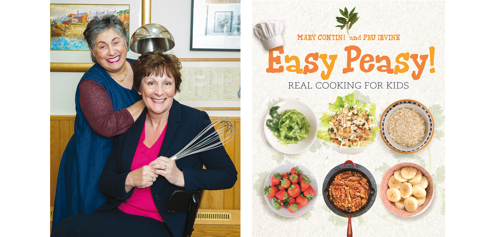 Mary Contini & Pur Irvine
Easy Peasy Real Cooking for Kids
3pm | Ages 8+ | Book tickets
As a self-proclaimed foodie and food obsessive, I still struggle with ideas for my child's meals. Fed up with making the same foods and dealing with refusals at anything new, I am really looking forward to this session so we can cook together and eat together in a fun and imaginative way.
Ruth Hardie
Event Support Assistant
Wee Write! Family Day takes place on Saturday 2 March at The Mitchell Library – explore the full programme.