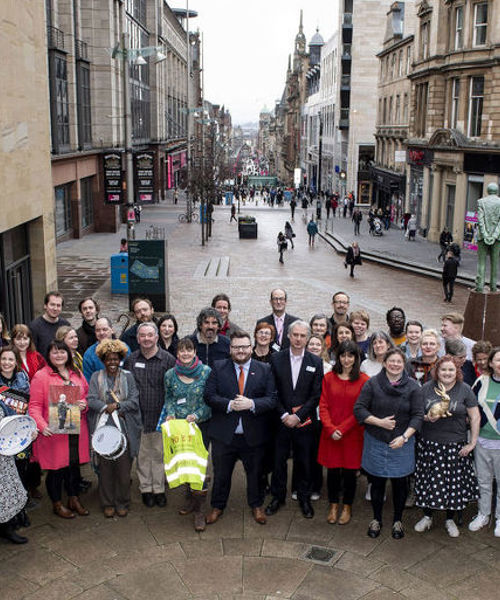 Creative Communities: Phase 1 - an introduction
Download 'Glasgow's Creative Communities'
Download a PDF of the publication 'Glasgow's Creative Communities' from which this introduction is taken. Find out more about what happened across the city during this project.
Glasgow's Creative Communities.pdf
In December 2018 a new Glasgow-wide initiative was announced. Creative Communities: Artists in Residence, funded by Glasgow City Council and delivered by Glasgow Life, would employ an artist in residence for every community.
The scale of the project was unprecedented, commissioning 23 artists and arts organisations and placing them in the 23 wards of Scotland's largest city.

In the first phase of Creative Communities, from March – June 2019, artists worked in every one of the 23 wards, connecting with local groups and individuals to find out what they want from an artist's residency. Coming from a huge range of disciplines, and using a whole variety of art forms – photography, storytelling, theatre, music, textiles, film-making and much, much more – they have enabled conversations with thousands of Glaswegians of all ages, abilities and backgrounds.

Creative Communities: Phase 1 is a record of that first phase of Creative Communities, giving a snapshot of the many events, activities, workshops and discussions that have been taking place right across the city, and the many groups who were involved. The ideas they have generated will shape the future of this truly pioneering project, designed by residents, for the community they live in. Details of Phase 2 of this audacious project, drawing on the recommendations of the 23 Artists in Residence, will be announced before the end of 2019.
Councillor David McDonald, Chair, Glasgow Life