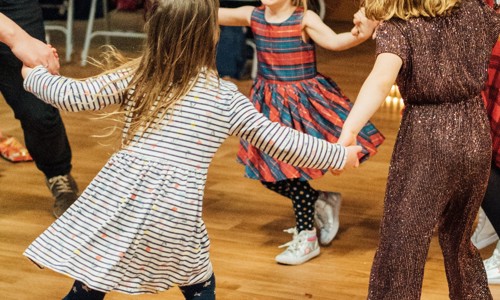 Dates
On now until Sat 18 Dec 2021
Our Family Cèilidh Concerts bring live music to neighbourhoods around Glasgow - for FREE! 
Get festive with a live music concert on your doorstep. Most concerts will be led by the fabulous Celine Donaghue Band, community touring veterans, while on Saturday 18 December we introduce The Long Notes, a fantastic folk band who have toured widely across the UK including appearances at Glastonbury, on BBC2, BBC3 - and our very own Celtic Connections. 
Concerts are open to all ages, and suitable for the whole family, with afternoon and evening shows to enjoy. Clap your hands, tap your toes and maybe even have a wee turn on the dance floor.
Contact the venue nearest you to find out about ticket availability, and how to book.
Remaining dates:
Barlanark Community Centre
1.30pm and 6pm on Friday 10 December
Phone 0141 773 1812
Pearce Institute
5pm on Friday 17 December
7pm on Saturday 18 December (led by The Long Notes)
Phone 0141 445 6007
Please note we want our concerts to be safe as well as fun. Capacity at each venue is less than usual to meet social distancing guidelines. Book early to avoid disappointment!

The Family Cèilidh Concert tour is possible thanks to the support of venue staff.