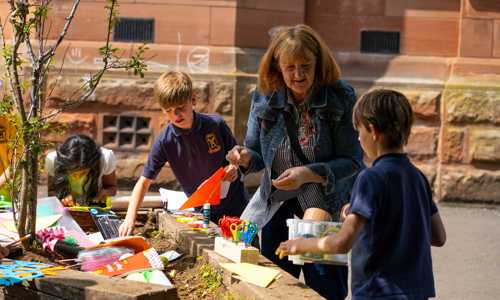 Glasgow Life's Artists in Residence
Glasgow Life's Artists in Residence
Since 2018, Creative Communities: Artists in Residence, funded by Glasgow City Council and delivered by Glasgow Life, has placed 23 artists and arts organisations in all 23 wards of Scotland's largest city. 
Residents from Linn to Canal, from Drumchapel to Baillieston - and all points in between - have had new opportunities to explore their creativity through visual arts, music, podcasts, performance, poetry, filmmaking, print, photography and much more besides. 
The unprecedented initiative has just completed its 'Phase 2.' Running from December 2020 - August 2021, much of it was delivered through lockdowns and under social distancing measures, yet 24,000 people engaged with the project, either in person or online. In fact, these residencies often provided a lifeline, and helped to bring communities, groups and individuals together during the pandemic.
Phase 3 of Creative Communities: Artists in Residence kicked off in October 2021, building on the incredible work carried out in Phase 2. 
Find out more about who's resident in your area by visiting the website.