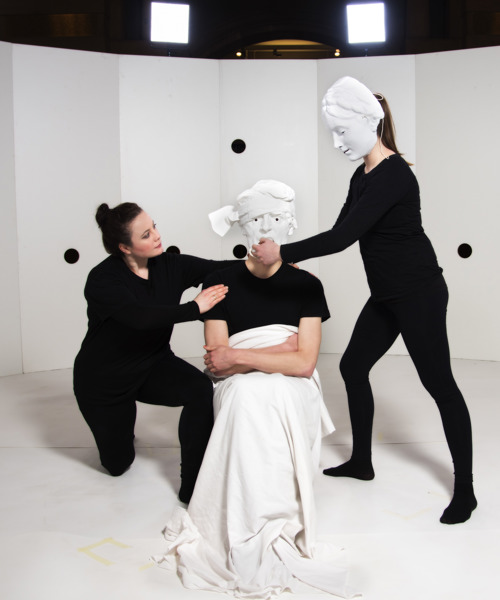 I Say Nothing is a provocative new artwork by Scottish artist Christine Borland that confronts the dichotomy of institutional care and brutality, focusing on the historical use of invalid feeder cups both to nurse wounded soldiers during World War I and to force-feed hunger-striking suffragettes in the years running up to 1914.
Utilising the little-known technique of photo-sculpture from the mid-nineteenth century, the artist worked with models and participants to document two poses, which represent the diametrically opposed ways in which the feeder cup was employed. Borland's sculptures embrace all the inherent distortions and inaccuracies of the photo-sculpture process to question the accuracy of representation and the power of a seemingly humble object.
Borland's artwork is a creative response to Glasgow Museums' World War I collection, the artist having undertaken a year's research residency at Glasgow Museums Resource Centre from October 2016 to October 2017. Co-commissioned by Glasgow Museums and 14-18 NOW, with support from the Art Fund, I Say Nothing is part of nationwide World War I centenary commemorations, and specifically an ambitious five-year programme of arts commissioning by 14-18 NOW.
This thought-provoking artwork, which is intended to stimulate critical reflection on World War I, as well as on museum collecting and care, is on display on the south balcony at Kelvingrove Art Gallery and Museum from 12 October 2018.
This display is free and situated on the South Balcony in Kelvingrove.
I Say Nothing created by Christine Borland is made possible with Art Fund support and is co-commissioned by Glasgow Museums and 14-18 NOW: WW1 Centenary Art Commissions with support from the National Lottery through Arts Council England and the Heritage Lottery Fund and by the Department for Culture Media and Sport.