Focus On: Destination Marketing and Glasgow Convention Bureau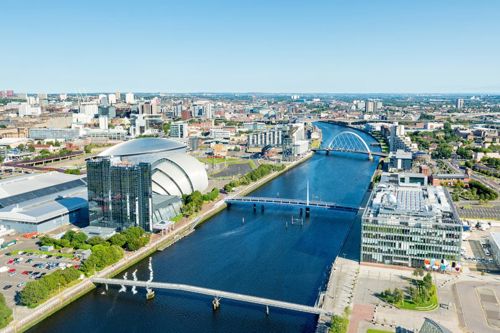 Published on Friday 29 May 2020
Tourism is part of the fabric of Glasgow and like other major destinations across the world, Glasgow's tourism industry faces a challenging future as it wrestles with the impact of the coronavirus pandemic.

Normally at this time of year, tourism businesses across the city would be preparing for their busiest season with summer on the horizon. On average, Glasgow attracts two million leisure tourists every year, drawn by our world-class cultural offer, diverse neighbourhoods and an outstanding collection of some of the UK's best restaurants and nightlife.

Glasgow is also a first-choice location for conference organisers, bringing hundreds of thousands of delegates to the city. Collectively, leisure and business tourism contributes more than £660m to the city's visitor economy annually and supports some 30,000 jobs. Last year, Glasgow was voted the world's friendliest and most affordable city by influential travel magazine, Time Out.

Glasgow Life is the lead agency in the delivery of Glasgow's Tourism and Visitor Plan to 2023 and also manages the Glasgow Convention Bureau. In our latest behind the scenes feature, we explore how our destination marketing and conventions teams are working with local and national partners to support Glasgow's tourism sector in its recovery from the Covid-19 crisis.

We spoke to: Susan Deighan, Director of City Marketing and External Relations; Aileen Crawford, Head of Glasgow Convention Bureau; Annique Armstrong, Senior Tourism Development Manager; Moira Dyer, Senior International Manager; Marie McDermott; Senior UK Short Breaks and Digital Manager; Elaine Dickie, Senior Day Visitor and Partnerships Manager; and Anne-Marie Gray, Membership Manager.

What impact has the coronavirus pandemic had on tourism globally?

Moira: Tourism has been among the hardest hit of all major economic sectors and it's estimated that visitor numbers could fall globally by between 60-80% in 2020. Glasgow's connectivity to our key international markets of the USA, Canada, France, Germany and Australia is crucial to the city's economy and our positioning as the Gateway to Scotland. However, the challenges faced by the aviation industry are significant and the continued suspension or reduction of direct flights will have a real impact on our overseas visitor numbers.

As lockdown eases, people will be keeping an eye on the destinations they want to visit and how those places are re-opening to visitors, but in the short to medium term with physical distancing and other restrictions still in effect, they're more likely to be cautious about travelling abroad. Around the world, destinations and tourism operators are anticipating a slow return to international travel.

What has this meant for Glasgow's Tourism and Visitor Plan?

Susan: Our teams have been working hard in recent weeks to put together a comprehensive marketing strategy that dovetails with the Scottish Tourism Emergency Response Group's (STERG) national recovery plan. As in Glasgow, tourism businesses across Scotland are waiting for government guidance about how and when they can reopen and what the recovery process will look like.

Within Glasgow Life we've been collaborating with our partners at VisitScotland, Scottish Enterprise, the Scottish Tourism Alliance and other industry bodies to ensure we're ready to activate our strategy when the time is right. Domestic markets look set to be the first to recover, so our initial focus will be on activity that targets and attracts the day-trip and Scottish staycation markets. As we move through the different phases of recovery our marketing emphasis will transition from local to national and international.

We've also established the Glasgow Tourism and Events Response Group (GTERG) bringing together the experience and expertise from the leaders of the city's key tourism and hospitality groups, including Glasgow's Leading Attractions; Experience Glasgow; Glasgow Restaurant Association; the Greater Glasgow Hotels Association and the City Centre Retail Association. This will feed directly into Glasgow City Council's new Covid-19 Economic Recovery Group and provide city intelligence locally and nationally.

Annique: Just before the coronavirus pandemic hit we were finalising a mid-term review of Glasgow's tourism plan, as this year marks the half-way point. Although the full impact of Covid-19 on Glasgow's economy is still unknown, the feedback from widespread consultation with our tourism businesses was for a strengthened, collaborative approach between industry and the public sector, and that's what we've really seen come to the fore in recent weeks and will continue through the remit of the Glasgow Tourism and Events Response Group.

How is Glasgow Life supporting tourism businesses in the city?

Marie: While our proactive marketing campaigns have been paused, we've been keeping Glasgow front of mind with our audiences via our People Make Glasgow digital channels. We're creating content in partnership with local businesses aimed at promoting their products and services during lockdown and helping them to generate much-needed income and visibility.

There are some really inspiring examples of how businesses have responded to the crisis. For example, we recently produced a feature around the wide range of initiatives developed to support local communities – demonstrating that people really do make Glasgow. We're also regularly sharing inspiring destination content using the global travel hashtag #DreamNowVisitLater and we've received really positive reactions to this from future visitors.

Anne-Marie: We've completely redeveloped the Glasgow Tourism and Visitor Plan website too. We've made it easier to navigate and introduced a variety of business support resources. There's also a dedicated Covid-19 section providing links to useful national support and advice across topics such as grants and funding; job opportunities; mental health resources; online training and webinars; and virtual networking.

And what about conferences taking place in Glasgow this year. How is coronavirus affecting our conventions activity?

Aileen: The priority for the Convention Bureau has been to retain as many conferences as possible that were scheduled to take place this year and secure alternative dates for future years. This is business that benefits every part of the city's tourism industry, from hotels and restaurants to retailers and transport operators, so we really want to hold onto it.

Our client services and accommodation teams have been working flat out to support our conference clients, venues and hotels with rescheduling their bookings. It's a complex process logistically, particularly where organisers were expecting thousands of delegates to attend or have large-scale social and entertainment programmes planned alongside the conference itself.

While some conferences have unfortunately been cancelled in line with UK and Scottish Government guidance, we've managed to reschedule more than 50% of meetings due to take place in 2020 to next year and beyond.

To further support the recovery of the city's tourism sector in the longer-term, our sales team has secured over 100 conferences to the city until 2025 and is currently working on more than 150 bids and enquiries for conferences as far out as 2029.

Despite the challenges posed by Covid-19, has it presented any opportunities?

Elaine: It's well known that necessity is the mother of invention and we've seen some real innovation from businesses across the industry in terms of adapting or completely remodelling their operations and services in response to the situation – whether that's traditional restaurants investing in digital technologies and platforms to support home deliveries, attractions developing virtual tours or whisky firms creating online tastings.

For some businesses, Covid-19 has been an opportunity, or an essential environment, in which to test new products and ideas, tap into new audiences and to do things differently, and we've helped to raise awareness through our digital channels. We're currently in uncharted waters, but if there's one thing we can be sure of it's that Glasgow is adept at facing, and responding to, economic challenges with agility and resilience.

How have our destination marketing and conventions teams adapted to working remotely?

Elaine: Although we're all working from different locations, the team has found lots of ways to stay connected virtually. We're a small and close-knit team with a digital first approach, and everyone's commitment and flexibility has helped us to find solutions during what's been a really challenging period. We've been looking out for each on a personal level too; offering a comforting ear when needed and still managing to share a laugh.

Aileen: Like all big organisations, we've discovered that working remotely brings inevitable IT challenges. However, my team have been incredibly supportive of each other and have created smart workarounds. I've been really proud of their resilience and the professionalism they've shown in continuing to support our conference clients. We've been working with some clients for several years and the team have been helping them through their toughest times with positivity and good humour.

What impact is Covid-19 likely to have on how we market the city to visitors going forward?

Marie: There's no doubt that Covid-19 will fundamentally change the global tourism industry and there's a number of emerging factors for us to consider in developing our destination marketing activities to support the city's recovery and encourage visits when the time is right.

Crucially, working in partnership with businesses and communities across the city to present positive, joined-up messaging around the city's re-opening will be key. It will be vital for us to closely monitor and understand consumer insights, to ensure our messaging will both inspire and reassure visitors, particularly in the short term.

The competition will be even tougher than before, so it will be critical that we're back in market at the earliest opportunity to keep Glasgow's profile high and encourage visitors again when it's safe to do so.

Aileen: For business tourism, it's expected that conferences will be part of the longer-term recovery, from 2021 onwards. Much like leisure tourism, it's likely that the focus will be local, then national, with international conferences returning when travel restrictions start to ease and there's greater confidence among delegates about travelling overseas.

From an industry perspective, it'll be important to recognise the need for visitors and delegates to feel welcome and safe, so there will need to be an emphasis on health and safety measures and protocols that are in place across the entire customer journey, including travel, accommodation, venues and social events.

Glasgow is widely recognised for its 'Team Glasgow' approach to leisure and business tourism, and that will be ever more important, particularly for conference clients who will be looking for host destinations that can offer united support and flexibility across the supply chain to meet their changing needs.

Find out more about Glasgow Life's recent and forthcoming strategic tourism and events activity.