Focus on: Glasgow Sport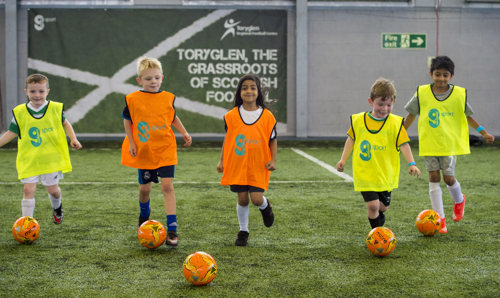 Published on Friday 24 April 2020
In the second of our Behind the Scenes series, we look at the impact the coronavirus pandemic has had on Glasgow Sport.

We spoke to different members of the team: Billy Garrett, Director of Sport and Events; Alan Milner, Head of Sport; Willie Dunne, Revenue and Project Manager; Bob Peck, Membership and Infrastructure Manager; Sharon Campbell, Health, Fitness and Infrastructure Manager and Kirsty Garrett, Sports Development and Activity Manager.

We asked how the Glasgow Sport team handled lockdown and what they're doing to respond to the challenge of having to engage with audiences remotely in delivering their mission to keep Glasgow fit and healthy.

How has the coronavirus pandemic affected Glasgow Sport's role in the city?

Billy: As the only organisation dedicated to all levels of sport and physical activity in the city, we knew the situation demanded a swift response. Glasgow Sport's mission is to help the city get active and healthy, bringing people together through sport as part of the wider mission of Glasgow Life as a charity.

The coronavirus pandemic has been a huge disruptor for all of us. And like any disruption, it has positive and negative outcomes. As a team we're focused right now on helping the city deal with the impact of the virus, supporting the many who are suffering hardship and bereavement. We're also looking at how we can help those impacted by the lockdown, so their days feel less shut in.

Glasgow Sport is one of the areas in which Glasgow Life brings in revenue to deliver its charitable work across the city, and this has taken a huge financial hit. We're looking at the implications of this on our future operation. At the same time we're working hard to hold onto a number of positives. The team has rallied together, showing great resilience. Their lightning-quick move online showed great creativity and resourcefulness, and the response of our current membership and new audiences is leading us to look at interesting new business models for a post-lockdown world.

How did Glasgow Sport approach and manage shutting down its sporting estate?

Alan: We had already learnt valuable lessons from the temporary closure of Scotstoun Leisure Centre earlier in March, when a member of the Scotland women's rugby team who trained there tested positive for coronavirus. We prioritised the safety of staff, members and the general public at every stage. The closure was managed with a multi-agency response with decisions taken in conjunction with Glasgow City Council's Resilience Unit following guidance from Health Protection Scotland.

Having said that, these are unprecedented circumstances, and we never imagined we would have to oversee shutting down our entire estate, including 27 Glasgow Club venues across the city. This is the first time this has happened in the Glasgow Club's 20-year history.

The most challenging aspect of the process was preparing venues for a potential extended closure. Some of our facilities have complex plant in them, for example the swimming pools, and it was hard to have to make decisions without a clear end date in sight. As ever, we were hugely supported by our colleagues and the Facilities Management team.

Over many late nights and early mornings we worked with them to develop a schedule of checks and processes to safeguard and maintain our buildings. It was also important to create a plan which means we can re-open easily when we are given the all-clear to do so.

What steps did you take following the closures to handle Glasgow Club memberships?

Willie: Our immediate response was to reassure our customers they wouldn't be out of pocket. The customer service team jumped into action to freeze payments and issue refunds for bookings we wouldn't be able to meet. With over 40,000 members this was a fair challenge. At the same time, we began to refresh the Glasgow Club mobile app, working quickly to adapt it into a new 'Working (out) From Home' online service.

What is the 'Working (out) From Home' online service?

Bob: It was clear the lockdown would restrict people's everyday routines, and we talked about how we could use the knowledge and experience of the Glasgow Sport team to help. Our starting point was: How can we inspire people to keep active and feel better? How can we help people even when they can't be in one of our venues where they'd be able to absorb the motivating atmosphere and access professional equipment and instruction? We developed a service around these challenges. Over the last weeks we've also added to it as we've monitored people's uses of it.

Who is the app available to?

Bob: More than half our members were already regular users of our mobile app so it made sense to harness that technology. Recognising that not everyone has a smartphone, I adapted the app as a front-end to a temporary 'Working (out) from home' website, which I started building the day we closed venues.

One week later we launched, taking an important decision to open the app and website to everyone, making it free to use. The income we generate through the membership supports both Glasgow Club and wider community sports across the city, but we felt it was the right thing to do to support all citizens of Glasgow under these difficult circumstances. Our decision responds to Glasgow Life's mission as a charity, helping to inspire every individual in the city to be motivated to lead a healthier and more productive life.

Initially the focus was on streaming on-demand fitness classes, easy-to-follow and equipment-free routines accompanied by general advice on maintaining a healthy body and mind. Then, this week we added live fitness classes for anyone and everyone to join online. We want ALL of Glasgow to be keeping active and well.

What were the challenges of taking the Glasgow Club offer online?

Sharon: It's been a steep learning curve. Our teams have had to get to grips with the technical aspects of creating fresh and exciting workout content to engage audiences who are accessing it remotely. We knew we needed to act fast, and our teams rose to the challenge brilliantly. They have been working round the clock developing and creating editorial video content across platforms.

Have there been any unexpected elements?

Sharon: Yes, hundreds and we're still learning! We recognise the tremendous scope of this opportunity. We knew we wanted to keep our engaged Glasgow Club membership, but we're hopeful we may have managed to reach some of those who haven't exercised regularly previously, as well as those trying out new forms of exercise. If this proves to be the case, we'll be really excited as that is such an important part of the vision of Glasgow Sport.

What has the response been like?

Bob: It's been fantastic. So far we've delivered 100,000 home workouts since lockdown. Members who have been missing seeing their favourite instructors are messaging us to say how much they are enjoying being able to attend virtual classes in their own homes. We've also had an incredible response on our social channels. In the month since we launched the online offer we've seen a reach of over 100,000 on Facebook with 85,000 views of our videos there. There have been 26,000 impressions on YouTube.

Will this change how Glasgow Sport operates when we re-open?

Billy: There's no doubt that the world will be a very different place when Glasgow Sport re-opens. We know we'll need to find ways of adapting to meet whatever guidelines are issued. And most of all we know we'll need to understand and adapt to customer expectations. Things have been changing really quickly. But we're sure we'll be able meet the next challenges that are ahead.

Sport and physical activity is now front and centre in everyone's lives. The work of the digital team has enabled us to keep connected with our loyal customer base and it's also given us the opportunity to appeal to new audiences: those who have discovered and fallen in love with exercise during lockdown and those who have taken the opportunity to explore new kinds of exercise.

Are there any activities which are ongoing?

Kirsty: There are a number of services which haven't stopped. For example the Live Active Referral Scheme is still supporting referred individuals with improving their physical activity levels. Live Active advisors have had to adapt their approach and now they're offering regular telephone and email contact to support vulnerable people. They're drawing on Glasgow Life resources as well as materials provided by external agencies such as the NHS, BHF & Paths for All.

Also, Drumchapel Cycle hub is offering free bicycle maintenance to help people get their daily exercise. Another scheme is 'Wee play work out at home' which offers bite-size sessions for our under 5s, as we realised this was an audience not so well serviced for online physical activity. So far 13,725 unique users have engaged with our posts.

The situation has not only made Glasgow Sport think and operate differently but it's inspiring our wider partners, such as our Community Sport Hubs, to change as well. The city has 19 community sport hubs with over 10,000 engaged members. Their community spirit has really been demonstrated over the last month.

We continue to support sports clubs and organisations engage with their members online. For example, Ronin Karate Club & Itosu-Kai Karate Association have developed a 'Keep up Karate (Covid-19 Project)'. By their third week they had 54 hits on the kid's classes, 45 hits on the adult classes and 26 hits on the black belt classes. There are many other examples, such as the great digital work going on at the City of Glasgow Swim Team who aren't making a splash but encouraging young athletes to keep active. It's really positive work and it's great to see it happening.

How has the Glasgow Sport team adapted to this brave new world of sport?
Alan: The Glasgow Sport team has shown great resilience over the past month. I'm lucky to be surrounded by a dynamic team of dedicated, motivating people through an involvement in sport.

Their response in the face of extremely challenging circumstances has been wonderful to see, whether it's been to help with the creation of content for the online Glasgow Club app, or volunteering in the local community, or working with partners to deliver frontline services.

For example we opened Tollcross to provide space for St Thomas's Church to fill care packages for the people of the East End, and the Glasgow Sport team helped out at their local Guadwara by supporting one of its local football clubs prepare and deliver food parcels.

We're looking forward to re-opening and we're already pulling together plans for different scenarios. These include a potential phased approach to how we re-introduce some of our services as well as different ways of handling social distancing. We want to be sure we're ready when the time comes. We're also discussing how we generate income so we're able to deliver sustainable sports services for the city, whatever they may be.

When we do re-open, I think this time will stand us in good stead. We've pulled together in ways we never thought possible, and the team is here ready to help get Glasgow back on its feet post-coronavirus.