Support Services
Coaches
High Performance S & C Coach kevin.watson@glasgowlife.org.uk
Strength and Conditioning
S&C Performance Model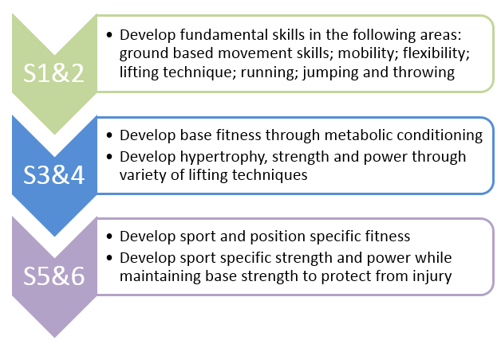 Optimal preparation is crucial to success within the performance model. A high attention to detail is taken to ensure the maximum possible opportunity for development. This requires team work between S&C, sport specific teams and development/national squads to collectively combine factors including number of training hours and loading, fitness testing results, recovery status, nutrition and psychological aspects of performance for each individual athlete.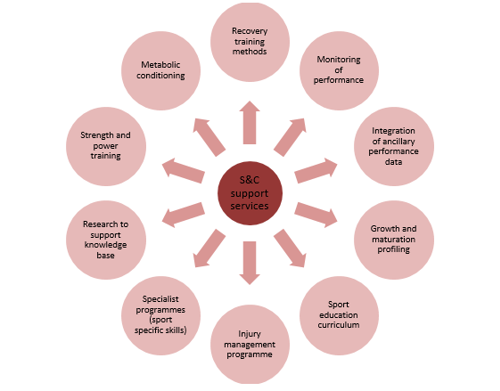 Every pupil at Glasgow School of Sport has an S&C programme which supports their sport specific development. Pupils receive between two and six hours of S&C a week with the number of hours increasing as athletes progress through the school.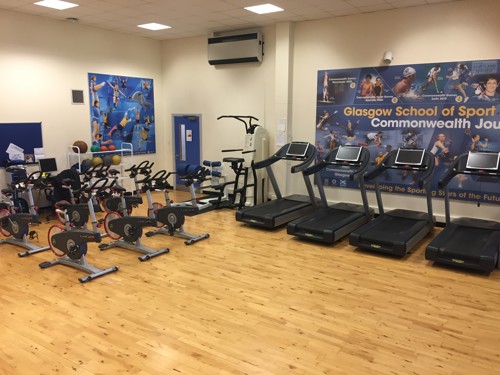 Research to support GSoS S&C programmes

The S&C team have presented the following poster presentations at the UK Strength and Conditioning Association's annual conference, contributing to the knowledge base of S&C in youth athletes in the UK:

• A 6-stage model for teaching the (squat) snatch in strength and conditioning
• A 6-stage model for teaching the (squat) clean in strength and conditioning
• Coaching approaches used in a Strength and Conditioning unit
within a school of sport
• A 4-stage technical model for teaching the split jerk to youth athletes
• A two year case study of injury prevention in elite youth badminton players
• The efficacy of a short-term strength-agility complex training protocol on strength, power and agility measures in female soccer players. 
News updates and results can be found on our social media platforms including Facebook, twitter, Instagram  and youtube channel.
Additional documents around Strength and Conditioning available at the foot of this page. 
Useful documents
Accessible formats
If you require documents in large print, braille, or audio versions please email: info@glasgowlife.org.uk