Start Up Day 2020
Start Up Day 2020
To sign up and see the full programme, go to the BIPC Start Up Day page
Start Up Day 2020
Join us for Start Up Day on Thursday 19 November 2020 for free talks and practical advice sessions designed to get your business idea off to a flying start.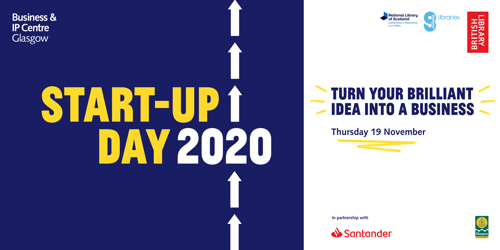 As events will be online this year, it is a great opportunity to sample the central programme coming from London, as well as sessions from Centres across the UK network, via a dedicated channel.
BIPC Glasgow are contributing a webinar to this programme:
Resources for Business Start Ups
Making best use of online business information resources to start and grow your business
12.45 – 1.30pm

This workshop, delivered as part of our Power Up project, will explain how to make the best use of free online resources at BIPC Glasgow to support your business start-up, expand your business or develop your own digital business skills. Delivered by Kavan Stafford, Information Officer at BIPC Glasgow 
To sign up and see the full programme, go to the BIPC Start Up Day page
We will also be running a supplementary event via Eventbrite with our Partners at Glasgow Chamber of Commerce:
The Circular Economy
Glasgow Chamber of Commerce discussion session on the circular economy with local businesses/case studies
2:00pm
Circular Glasgow is an initiative of Glasgow Chamber of Commerce. It is a movement to inspire businesses of all sizes to innovate and become future-proof by adopting circular strategies. Find out more and book your place.
Throughout the day the BIPC Glasgow team will be tweeting along so if you have any comments or questions join us @BIPCGlasgow #BIPCStartUpDay #PowerUp