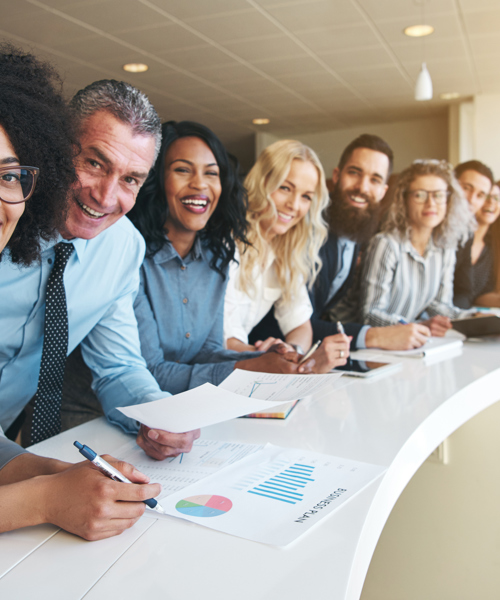 Opportunities for Employers
Find out more
For more information about work placements and employment opportunities or getting involved as a guest speaker or mentor, please get in touch.
Glasgow Code Learning
Glasgow Code Learning is diversifying and future-proofing your workforce via accessible and accredited digital skills training.
Find out ways that your organisation could benefit by getting involved.
Up-skilling your workforce
Transform and empower your employees by giving them the opportunity to up skill or re-skill with our range of free Glasgow Code Learning digital courses.
The rapid evolvement of digital technology means that new products, services, processes and business models are continually being developed. This has an impact on the skills you require of your workforce to take advantage of this to allow your business to continue to thrive.
Glasgow Code Learning is a dynamic, online learning tool that provides digital skills training to suit all levels of ability that will support your business to instill a learning culture that encourages and retains staff. We also have a community of supportive tutors and access to computers and smart devices via optional drop-in sessions at Glasgow Kelvin College campuses to support your employees too.
Your employees will achieve recognised qualifications and expertise ranging from the use of cloud-based applications to web and app development to cyber security to digital marketing techniques.
Hiring
We challenge our learners to create digital projects on behalf of tech and non-tech Glasgow-based organisations. This gives our learners real-life work experience of web development and gives companies like yours the opportunity to work with newly skilled, talented and creative developers.
The benefits to your organisation are:
It's a unique opportunity to fill skills shortages or vacancies you may have in your organisation with a skilled developer that you've already had the experience of working with!
We'll support you in making your employment opportunities more accessible to attract a more diverse workforce.
We'll match the right learners to your company so that they're ready to hit the ground running and have the skills and knowledge you require to improve your product/ services from web development to digital marketing to cyber security.
Please get in touch if your company would like to be matched with a Glasgow Code Learning learner for either a work placement or employment opportunity by emailing glasgowcodelearning@glasgowlife.org.uk
Guest Speaking and Mentoring
We feel it's important that employers from across the sector have the opportunity to collaborate and feedback on our curriculum design. We want to create effective partnerships with businesses like yours that will support our learners to develop the ICT and digital technology skills that you as an employer require.
One way in which we can start to connect our Glasgow Code Learning: Pro learners with employers and experts in the digital community is by inviting guests in to talk about their journey in the industry and to give our learners a clear understanding of the range of career opportunities available to them.
Another of our aspirations is that every Glasgow Code Learning: Pro learner is matched with a mentor who is an expert from the industry to support their personal development on a 1-1 basis throughout their 12 weeks on the programme.