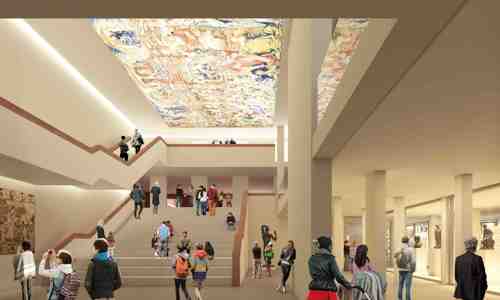 Burrell Spotlight Loans and Themed Exhibitions
Burrell Spotlight Loans and Themed Exhibitions
Burrell at Kelvingrove: Collecting Chinese Treasures
Kelvingrove Art Gallery and Museum, Glasgow
Until Sunday 29 November 2020
FREE entry
See some of the wonderful porcelain, bronze and Jade from the Chinese Dynastic periods collected by Sir William Burrell, including Tang Dynasty tomb guardian figures, elaborate forms of ritual bronzes that are more than 2,500 years old and a rare Ming Dynasty blue-and-white tankard.
Previous Burrell at Kelvingrove: Collecting Medieval Treasures
Closed on 7 July 2019
Drawing from the vast collection of medieval objects amassed by Sir William Burrell (1861-1958), this exhibition brought together ceramics, stained glass, paintings and tapestries plus works in wood, alabaster, stone, metal and ivory.
Tour and Loans Programme
Japan
The Burrell Collection: A voyage to impressionism. Vision of a great ship owner-collector was on display at the Bunkamura Museum of Art in Tokyo, until 30 June 2019. The exhibition was previously on show at the Museum of Art, Ehime until 24 March 2019.
USA and Canada
Degas' The Rehearsal will be on display at the National Gallery of Art, Washington DC in the exhibition Degas at the Opera between 1 March-28 June 2020.
Two textiles Verdure with the Arms of Robert Dudley, Earl of Leicester and The Luttrell Table Carpet will be on display at The Metropolitan Museum of Art in New York
between 5 October 2020–10 Jan 2021, followed by the Cleveland Museum of Art between 21 February–16 May 2021.
The Wagner Garden Carpet was on display at the Museum of Fine Arts, Houston until 10 February 2019. It is next due to be shown at the Aga Khan Museum in Toronto from March 2020.
Holland and Germany
Rembrandt's Self Portrait is on display at Schloss Wilhelmshöne in Kassel, where it opened on 12 April until 11 August 2019. It was previously on display at the Fries Museum, Leeuwarden until 17 March 2019.
France
Two pastels by Degas are currently on loan to the Musee d'Orsay in Paris: Women in a Theatre Box and Three Dancers feature in the exhibition Degas at the Opera and will be on display
between 23 September 2019–19 January 2020.
UK
The Thinker by Rodin for the tour of Rodin: Rethinking the fragment was on display at New Art Gallery in Walsall, 2 February-28 April 2019.
Nocturne: Grey and Gold, Westminster Bridge by Whistler went on display at Tate Britain in London on 27 March until 11 August 2019.