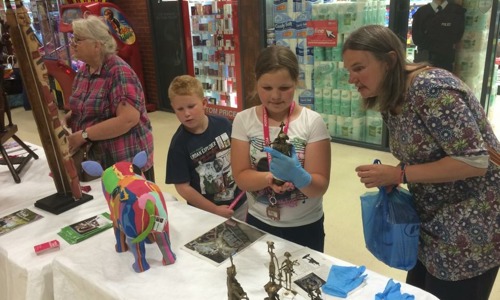 Free entry
Contact
0141 276 9300
openmuseumenquiries@glasgowlife.org.uk
Woodhead Road, Glasgow Museums Resource Centre, Glasgow, G53 7NN
View on map
The Open Museum is Glasgow Museums' outreach team. We take objects from the museum collections out to communities across the city, so that they can be enjoyed by everyone. In particular, we work with communities who may find it difficult to visit our museum venues.
Would you like us to be involved in your next project? We can develop workshops and offer support to make your ideas happen! We can develop projects working in partnership with communities and offer talks and activities in community venues.

Whatever your aim, be it supporting social interaction, literacy, confidence building, learning and skills development or health and wellbeing, then we would love to hear from you!

Are you planning a community event or festival? Would you like us to bring along amazing objects to inspire curiosity and conversations? We can help with that too. Please contact us to discuss your ideas about how we can work together.
If you are based in Glasgow, we have a range of free handling kits and displays which can be borrowed for use with your group.

To find out more, please contact: OpenMuseumEnquiries@glasgowlife.org.uk or phone 0141 276 9300.
Accessible toilets
Wheelchair access
Baby changing
Baby feeding
Cloakroom
Photography and video recording
Free wifi
Use the Traveline Scotland journey planner to plan your visit by public transport.
By Train
GMRC is a short walk from Nitshill train station, and the path is clearly signposted. Trains run regularly between Nitshill and Glasgow Central train station every day except Sunday.
By Bus
First Bus services 10 and 57 stop near the venue.
Glasgow stories
Cafes
Canals
Childcare
Childhood
Cinemas
Evacuee Suitcase
General Life
Glasgow Coat of Arms
Holidays
Life Celebrations
Looking Good
A Night Out
Parks of Glasgow
Pub Culture
Schools Then and Now
Shipbuilding
Shopping
Tenement Life
Transport
Washday
Stories from around the world
Animals of the World
Before Chinatown
Games of the World
Pakistan
Travel
World Religions – Bahai, Buddhism, Christianity, Hinduism, Islam, Judaism, Sikhism
World Spices
Themed kits
Animal Tracks
Archaeology
Big Bugs
Charms and Amulets
Crystals
Cycling
Fabric of our Society
Enigma
Folklore
Football
Fossils from the Sea
Medicine Chest
LGBT
Romans
Photography
Sports
Storyteller's Luggage
Stone Age Technology
Visual Eyes
History kits
Butter Hands
Crofting Life
50s Music
The Fifties
The Sixties
The Seventies
The Eighties
Golden Oldies
Toy Town
Up in Smoke
WW1
WW2
Kit store opening hours
Tuesdays from 10am-4pm
Wednesdays from 10am-4pm
Open Museum Photography Exhibition
In the 30th year of both the Open Museum and Glasgow being the European City of Culture, we invited community groups and individuals to submit photographs to create a contemporary portrait of the city by those that live in it. This visual story of the city will capture people, places and experiences from a broad range of people behind the lens. Stay tuned for news on the exhibit and the opening date.
Coming into view: Photographing Glasgow