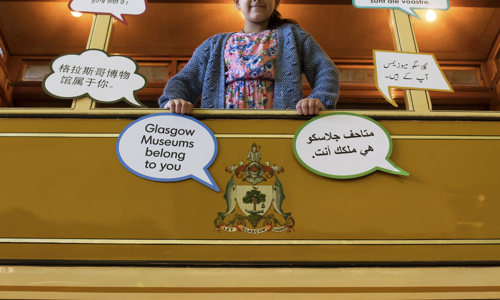 Glasgow Museums launch first multi-lingual learning resource in six community languages
Glasgow Museums launch first multi-lingual learning resource in six community languages
Glasgow Museums are a treasure chest of wonderful objects and they all belong to the people of Glasgow. For the first time a new family learning resource has been translated into the six most widely spoken community languages used by bilingual citizens living in Glasgow.
The cross-venue trail has been created in partnership with multilingual families and the city's English as an Additional Language Service. It features Top Tips from families who visited for the first-time and aims to engage parents and carers in their children's learning, while encouraging families to use their home language.
Entitled Away for the Day with Glasgow Museums the online booklet is now available in Urdu, Punjabi, Polish, Arabic, Mandarin and Romanian.
Mr Ghazanfar and Sameena Ali and their child Zara Ali aged 9 years old from Pakistan and Glasgow, who speak both Urdu and English, were first to try out the trail Riverside Museum.
Mr Ghazanfar Ali said:
Having the Away for the Day booklet translated into Urdu and the other community languages is a wonderful way for bilingual families like mine to enjoy free family fun in all the different museums across the city, while sharing my home language with my children. It's important to me to be able to share in their learning and to pass on our home language, the language I grew up with.
The booklet follows lots of different families around Glasgow's nine, free to enter, museums. As they go they suggest fun things to see and do in each museum. Children have been set a challenge – can they visit all nine museums and complete the things listed, gathering stickers as they go.
Youngsters are encouraged to discover more about the city's Coat of Arms at Kelvin Hall, or dance about in front of the magic mirror from Glasgow's old fairgrounds, visit the peephole in GoMA inspired by the inside of a whale and go on an animal safari at Kelvingrove Art Gallery and Museum.  Parents can look a little silly helping little ones copy the funny expressions on the heads in St Nicholas Garden outside Provand's Lordship.  Meanwhile at Riverside Museum children can search out a Mini and a Morris Minor or show off their firefighting skills with the interactive fire engine game. 
St Mungo's must be one of the best places in the city for a scarier version of eye spy, with its huge window overlooking the Necropolis, and Scotland Street School offers the chance to talk about times gone by with old school uniforms, classrooms and playground games.  Become a mini explorer at Glasgow Museums Resource Centre with your hat, binoculars and torch, but remember visits here must be part of a pre-booked workshop or tour.
Chair of Glasgow Life, Councillor David McDonald, said:
Visitors continue to flock to all nine Glasgow Museums, with almost 4 million attendances recorded over the last year alone. A huge number of these are by bilingual families for whom English is a second language. When you look at the incredible objects on display it is easy to see how with a little imagination and explanation the city's museums can open up a whole new world to even the youngest of visitors. It is wonderful this new resource allows families to access this in their first language and engage further in their child's learning.
Away for the Day with Glasgow Museums can be downloaded at www.glasgowlife.org.uk/museums/away-for-the-day. For more information on the museum opening times, transport options, visit www.glasgowmuseums.com