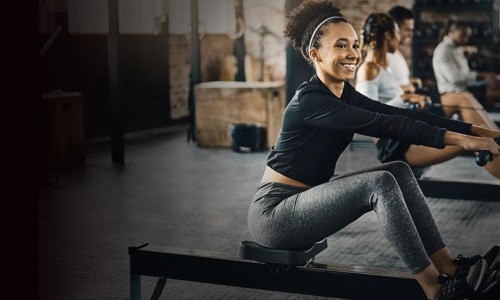 Not Just for January with Glasgow Club
Not Just for January with Glasgow Club
We've all been there: it's January and you've made a New Year's resolution to get healthier and fitter. So you go the whole hog - make a conscious effort to eat more fruit and veg, cut out the high-calorie snacks, and book into five classes a week at your local gym.
It all goes well for a week or two, but eventually you find yourself slipping back into old habits and the thought of pulling on your trainers to get to the gym has you retreating to the couch in your pyjamas. By the time the month is over, you're back where you started and feel like you haven't made any difference at all.
That's where Glasgow Club can help you. We want to help those who are prepared to be in it for the long haul – not just for January. We believe your health, fitness and wellbeing is a year-round commitment, not just something you focus on once a year.
A Glasgow Club membership gives you access to 21 gyms, 12 pools, and 1,400 classes across the city every week. Add to that our fantastic sports courts, outdoor and indoor tracks and pitches – and there really is something for everyone!
With a wide variety of memberships to choose from, you can decide which option will suit you best.
If you're just getting back into fitness or want something fairly low-intensity, then our ActivClub membership is the one for you. Priced at £15 a month for those aged 14+, this membership includes unlimited swimming, a wide selection of 'lifestyle' fitness classes, bookable gym sessions, access to our Walking Football and Walking Netball programmes – and so much more!
For those who are looking for something more, we offer our FitClub membership from as little as £20 a month for those aged 22+, and just £15 for those aged 14-21. This membership gives you access to unlimited swimming and gym sessions, all of our fitness classes, access to sauna and steam rooms – as well as our fantastic Member Journey which has been shown to keep members engaged and motivated. Through four specially-designed personal appointments, our team can help you Get Started, Get Going, Keep Going, and Go Further.
If you're looking for something for youngsters, we also offer our FitClubJNR membership for those aged 12-13 (£15 a month), and GoClub for those aged 5-11 (£15 a month, or £10 if a parent/guardian has a FitClub membership).
Don't fall into the trap of making too many changes at the start of the year and falling off the wagon before February. Join us and we'll help you make small, consistent changes which will improve your overall health and wellbeing for years to come – not just for January.
If you join this month, Glasgow Club will waive the joining fee and you won't pay anything until February! For more information, visit glasgowclub.org/offers