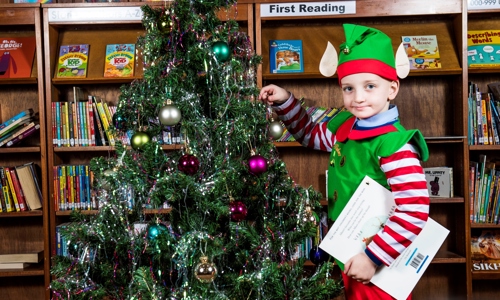 Santa's little helpers bring Christmas Reading Challenge to Glasgow Libraries
Santa's little helpers bring Christmas Reading Challenge to Glasgow Libraries
Santa's little helpers, four year old Lena Zawadzka and five year old Jayden Cooley and Casey Ruby were on hand in Parkhead Library this week to help launch this year's Christmas Mini-Reading Challenge.
The trio of bookworms from Glasgow's St Michael's Primary School visited Parkhead Library to show their appreciation for stories, and the city's libraries are hoping that book lovers aged 0-12 across the city will be just as eager to curl up with a good book, or three, when the Challenge begins on Saturday, 2nd December.
Councillor David McDonald, Chair of Glasgow Life, said:
"Christmas is a magical time for our city's children, and this year I'm delighted that all 33 of our city's libraries will be inviting young Glaswegians to come in and take part in this fantastic Reading Challenge.
"I hope hundreds of young people from across the city head down to their local library with their families, sign up for the Challenge and discover the fantastic selection of books on offer this Christmas."
To take part in this year's Christmas Mini-Reading Challenge, which runs from 2nd December – 3rd January, young Glaswegians simply need to pop into their local library, pick three books and say the magic words 'I'm taking part in the Christmas Reading Challenge' to the library staff. And with a special certificate and lots of cracking Christmas reads to enjoy there's even more reasons to keep reading all winter long.
The Christmas Mini-Reading Challenge is designed to encourage children from across the city to get to grips with tall tales and wonderful new worlds, inspiring them to visit their local library and read for pleasure during the cold winter nights. The Christmas Mini-Reading Challenge follows Glasgow's successful Tesco Bank Summer Reading Challenge Scotland, delivered in partnership with The Reading Agency.
More than 4,000 children took part in this year's Tesco Bank Summer Reading Challenge and Glasgow Libraries hope to inspire children city-wide to curl up with a great story over the festive period too.
Eager readers keen to take up the Christmas Mini-Reading Challenge are invited to head to one of the city's 33 libraries, and read three books of their choice throughout December.
Libraries will be filled with fantastic festive tales perfect for this magical time of year, from Judi Abbot's Snow Kisses to Herge's Tintin and the snaws of Tibet translated by Dr Susan Rennie and The Christmasaurus by Tom Fletcher.
Head down to any of Glasgow's 33 libraries to sign up for the Challenge and don't forget to check out www.glasgowlife.org.uk/libraries, to find out your local library's opening times throughout the festive season.