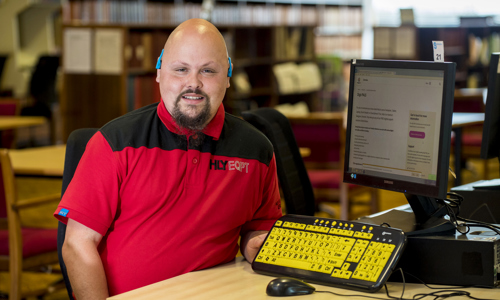 Visual Impairment Digital Volunteers offer support in Glasgow Libraries
Visual Impairment Digital Volunteers offer support in Glasgow Libraries
Visual Impairment Digital Volunteers offer support in Glasgow Libraries
Specialist Visual Impairment (VI) Digi-PALS volunteers have joined Glasgow Libraries to support blind and partially sighted residents to independently enjoy their local library
As libraries across Glasgow mark the Royal National Institute for the Blind's (RNIB) awareness fortnight Make a Noise in Libraries (4th – 17th June), the VI Digi-PALS team hope to encourage more visually impaired people to turn to their local library for help and support with digital technology.
With every library kitted out with Zoomtext readers that enlarge, enhance and read aloud content on a computer screen and Hi-Vis large-key keyboards that are easier for those who have sight-loss to use, the VI Digi-PALS will provide one-to-one support for visually impaired customers, helping them to access the specialist software independently.

Councillor David McDonald, Chair of Glasgow Life, said:
I'm delighted that our libraries are marking RNIB Make a Noise in Libraries fortnight by supporting visually impaired citizens to take advantage of everything Glasgow's libraries have on offer.

We know that accessing computers and digital technology can be daunting for many, but by offering this one-to-one support in libraries for our visually-impaired residents I hope that we can create opportunities for many more Glaswegians to enjoy the benefits of being online.
One of Glasgow Libraries new VI Digi-PALS is Fraser Fleming. Diagnosed with Diabetic Retinopathy Fraser, from Motherwell, has been involved in accessible skills technology training for a number of years. He signed up to become a VI Digi-PAL in Glasgow Libraries to support more people with visual impairments to reap the benefits of using computers.
Fraser said:
I heard Glasgow Libraries were looking for volunteers who could support visually impaired people to use JAWS and Zoomtext technology in the city's libraries. Because I know how to use these pieces of equipment, and can see the many life changing benefits they provide, I was keen to volunteer.
JAWS, a screen reader that basically reads anything that is written on the screen to you, and Zoomtext which magnifies content for people with reduced visibility are brilliant, and really useful for visually impaired people, but they can cost almost £1000 to install on a home computer, and people simply don't have that kind of money to spare. All Glasgow Libraries offer people the chance to use both of these pieces of technology, for free.
In my role as a Visually Impaired Digi-PAL people come to me with many different queries. They range from people who have very little experience with using computers, and want to learn basic keyboard skills or how to navigate around a computer, to people who have experience with using a computer and are perhaps looking for help with using Microsoft Office because they want to start a new business.
Today's world is digital, and while many associate using a computer as a visual experience, access technology offers visually impaired people so many ways to make life easier. It can help people to find their way around computers to be able to do their shopping online, or even download audiobooks.
Zoomtext technology and Hi-Vis keyboards are available for free in any Glasgow Library, with free to use JAWS technology installed in Drumchapel, Gorbals and Bridgeton libraries. Glasgow Libraries also supports more than 900 users experiencing sight-loss every year at The Mitchell Library's Resource Unit for Visually Impaired People (RUVI).
If you'd like to find out more, or to book an appointment with one of our VI Digi-PALS for one to one support, call 0141 287 2929.
If you, or a friend or family member would like to use the access technology now available in any of Glasgow Libraries, simply pop into your local library and ask a member of staff for details.
And if you're interested in exploring everything that The Mitchell Library RUVI has to offer including screen and text magnifiers, reading technology which turns text into accessible mediums such as audio and braille, and programmes providing access to the internet and word processors, please contact libraries@glasgowlife.org.uk