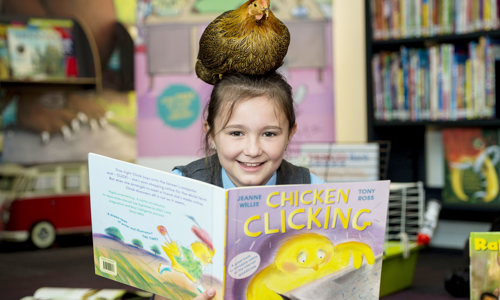 Young Glaswegians read more than 36,500 books during holidays thanks to Tesco Bank Summer Reading Challenge Scotland
Young Glaswegians read more than 36,500 books during holidays thanks to Tesco Bank Summer Reading Challenge Scotland
Across Glasgow this summer a record breaking 4,159 children headed to their local library to read a whopping 36,500 books, as the annual Tesco Bank Summer Reading Challenge Scotland took the city's 0-12 year olds by storm.
Run by national charity The Reading Agency, in partnership with library services and Tesco Bank, the Summer Reading Challenge Scotland involves children aged 4-12 joining the library and reading six or more books of their choice during the summer holidays, with a special mini Challenge also on offer to support book fans aged 0-3.
Today (Saturday), more than 120 of the city's top readers headed to Glasgow's Mitchell Library for a morning of songs, drama and action with interactive storytellers Macastory, to mark the epic finale to this year's Tesco Bank Summer Reading Challenge Scotland.
Commenting on the event, Alison Thewliss MP said:
"I'm delighted to support this year's Summer Reading Challenge and the positive message that it brings. Reading for pleasure is great for relaxation, as well as boosting literacy skills.

"I am pleased to see that over 4,000 children in Glasgow have taken part in the Challenge over the summer. The enthusiasm and excitement for the adventures of the Animal Agents is infectious, showing that reading is fun for all ages.

"I thank the fantastic staff at Glasgow Libraries for their tireless work supporting children of all ages to read and hope to see many more children taking part in next year's Summer Reading Challenge."
Glasgow Life Board member, Councillor Christina Cannon, added:
"A love of reading opens up so many opportunities for young people throughout their lives and I'm delighted that thousands of children across the city have teamed up with their local libraries to discover the many benefits of reading for pleasure.

"Congratulations to all who helped to make this year's Tesco Bank Summer Reading Challenge Scotland our best year ever in Glasgow, and I hope you all continue to visit your local library throughout the year to take part in more fun-filled reading adventures."
Since 2011, the Tesco Bank Summer Reading Challenge Scotland has been drawing children into their local libraries and inspiring them to read for pleasure. Based around an exciting new theme each year, it combines free access to books with fun social activities and a creative online element.
This year's theme, Animal Agents, saw thousands of young detectives descend on Glasgow Libraries to help the agents – a band of furry, slippery and feathered friends created by renowned children's illustrator Tony Ross - solve a mysterious crime by reading six books or more.
Adele Mills, Senior Community Investment Manager at Tesco Bank, said:
"Reading for pleasure is a fantastic way of spending some enjoyable time during the long summer holidays so we're delighted that children from Glasgow got involved through their local library.

"The Challenge aims to inspire 40,000 children across Scotland to participate during their break from school and events like this will undoubtedly have a positive effect on their future."
This summer, Glasgow's 32 Community Libraries and the iconic Mitchell Library hosted an array of exciting events and activities to help youngsters engage in the programme, including innovative storytelling events, action-packed workshops and craft sessions, with library staff on hand to support children, helping them to discover new authors and explore a wide range of different types of books.
But of course, it's not just during the summer holidays that children are encouraged to find the joy in reading. Young Glaswegians can borrow books from any of Glasgow's 32 community libraries, and the Mitchell Library, by signing up for a free Glasgow Kidz Card at their local library.
Glasgow Libraries have stacks of fun activities and fantastic books on offer to keep Glaswegians young and old reading all year round. To find out more about reading initiatives and activities at your local library, please visit: www.glasgowlife.org.uk/libraries.