COVID-19 Club Governance
COVID-19 Club Governance Support
Considerations for sports clubs in a post COVID-19 sports environment.
Club Governance Support
The policies and procedures that guide a sports club are vital and even more so upon the restart of sport after COVID-19.
The resumption of sport will require clubs to reevaluate certain policies and procedures including Child Wellbeing and Protection, Health and Safety and Social Media policies.
Tips/ Hints
Follow Public Health guidelines set by Government and NGBs.
Ensure the governance of your club / organisation allows you to complete club / organisation business online.
Maintain an accurate registration database including up to date contact details of all members and a record of attendance. This will be vital if track and trace is required.
Maintain data protection procedures or amend where necessary whilst delivering activities virtually.
Be aware of safeguarding online associated to online meetings or delivered activity.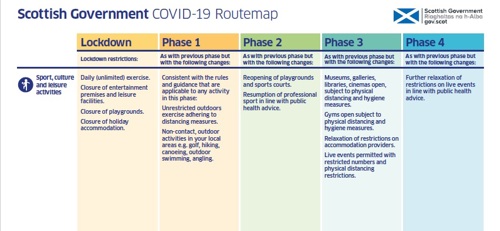 Useful documents
Accessible formats
If you require documents in large print, braille, or audio versions please email: info@glasgowlife.org.uk