Home Sport COVID-19 Support #ReadySteadyGoAgain
COVID-19 Sport Updates and Guidance
Scottish Governing Body Updates
Up to date information from SGB's on the return of their sport.
SGB Sport Updates
Welcome to our Sports Organisation Support resource. Glasgow Sport is here to support community sports clubs to be #readysteadygoagain as the Scottish Government eases the restrictions after lockdown.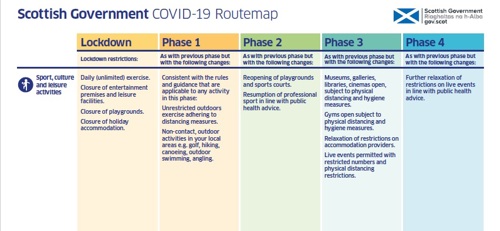 We are currently in phase 2 of the Scottish Government route map which means that in addition to some outdoor sports restarting such as golf, tennis and bowls it is now possible for a maximum of 8 people from 3 households to informally play outdoor sport whilst following social distancing guidelines.
The Scottish Government have announced Monday 13th July as a provisional date for the recommencing of outdoor sports those this will be subject to Government and Governing Body guidelines to ensure safety is prioritised at all times.
To ensure that you are up to date with current advice to help your club plan to Go Again you should keep up to date with the latest advice from the Scottish Government, Health Protection Scotland and Sportscotland. There are also resources and advice from Sports Governing Bodies including the Scottish Football Association, Scottish Rugby Union and many others.
Useful documents
Accessible formats
If you require documents in large print, braille, or audio versions please email: info@glasgowlife.org.uk