Commonwealth and Olympic Athletes
Here at Glasgow School of Sport we have a long history of successful pupils who have competed in some of the worlds most prestigious sporting events.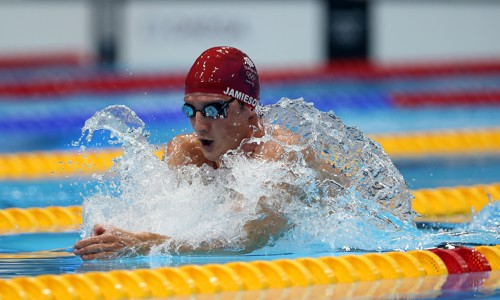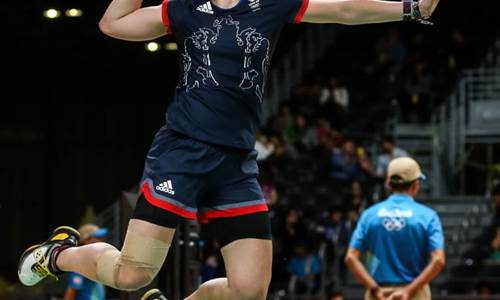 Olympic Games: Swimmer Michael Jamieson became the School of Sport's first Olympian in 2012 and made the entire Nation proud by winning a silver medal in the 200m Breaststroke. In 2016 Badminton player Kirsty Gilmour qualified and competed as World Ranked Number 15 in the Rio Olympic Games Ladies Singles event.

Commonwealth Games: Glasgow School of Sport's Commonwealth success started with gymnast Lynne Donaghy competing at the Games in Manchester 2002.

In 2010 a magnificent seven pupils from Glasgow School of Sport, represented Team Scotland in Delhi at the Commonwealth Games. Hockey players: Kareena Marshall, Amy Gibson, William Marshall and Kenny Bain, Gymnast Ryan McKee, Badminton player Kirsty Gilmour and Swimmer Michael Jamieson. Michael won silver in the 200m breaststroke and is focussed on winning gold at the next Commonwealth Games in 2014 in Glasgow.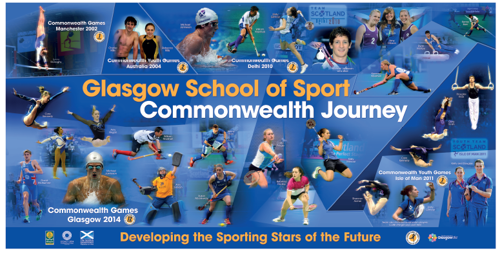 The Glasgow Commonwealth Games in 2014 showcased 12 pupils from Glasgow School of Sport. Michael Jamieson Won Silver in 200m Breastroke and Kirsty Gilmour Won Silver In Badminton Ladies Singles. Badminton players: Rebekka Findlay and Caitlin Pringle, Hockey Players: Amy Gibson, Susan McGilveray, Kenny Bain, William Marshall, Gymnasts: Amy Reagan, Carly Smith, Cara Kennedy Triathlon: David McNamee

Most recently the 2018 Gold Coast Commonwealth Games was the platform for Glasgow School of Sport Athletes to shine. An incredible 13 former pupils of Glasgow School of Sport were part of the Games including 11 members of Team Scotland. At the heart of the team was badminton star Kirsty Gilmour, who won bronze in the women's singles event. Kelvin Cham was also part of the bronze medal winning men's gymnastics team.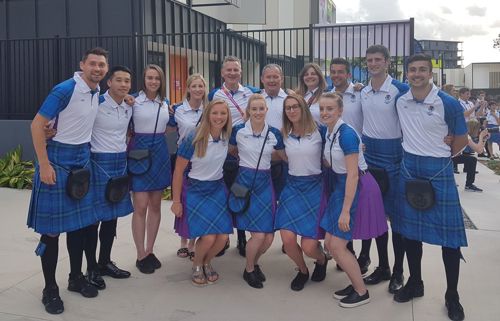 Former Glasgow School of Sport pupils competed across five different sports (aquatics, badminton, gymnastics, hockey and triathlon), where they represented not only Team Scotland but also Ireland and host nation Australia. 
 
As well as the medal wins in badminton and gymnastics, Kenny Bain, William Marshall and Lee Morton helped the men's hockey team finish in a best ever 6th place at the Commonwealth Games, while Amy Gibson and Kareena Cuthbert helped the women's team finish in 7th place in the Gold Coast.
In the gymnastics Cara Kennedy equalled Scotland's best ever finish for a woman in the all-around event when she finished in 9th position. Team-mate Shannon Archer finished the all-around event in 10th place – the first time Scotland have had two gymnasts finish as highly in the same event.
Glasgow School of Sport also has one of the best high performance coaching teams in the country, with gymnastics coaches Sandra Stevenson and Marius Gherman, hockey coach Derek Forsyth and former strength coach Raymond Cavanagh also part of the 'team behind the team' supporting the athletes as part of their preparations for the Gold Coast.
Gold Coast 2018 Commonwealth Games Roll of Honour:
Aquatics: Jamie Graham (Ireland)
Badminton: Kirsty Gilmour, Eleanor O'Donnell, Adam Hall
Gymnastics: Kelvin Cham, Cara Kennedy, Shannon Archer
Hockey: Kenny Bain, Amy Gibson, William Marshall, Kareena Marshall (now Cuthbert), Lee Morton
Triathlon: Charlotte McShane (Australia)