Russia
In 2008 Glasgow School of Sport formed a partnership with the Olympic Reserve School in Glasgow's twin city of Rostov-on-Don in Russia.
Artistic Gymnastics Exchange
This school specialises in the sport of artistic gymnastics and boasts five Olympic Medal winners. This Olympic Reserve School is regarded as one of the best gymnastic complexes in Russia.This exchange programme provides Scottish Coaches with the opportunity to observe and work with some of the best coaches in the world and Scottish gymnasts to train and perform alongside their Russian counterparts preparing for Olympic Success.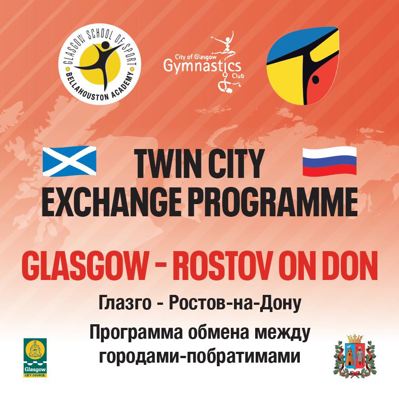 This exciting partnership has involved gymnasts and coaches from Scotland visiting Russia and Russian gymnasts and Coaches visiting Scotland each year for the last five years to participate in Coach Education, joint training sessions, action-packed displays and cultural visits.
This partnership was established to raise standards of performance in Glasgow and Scotland in preparation for the Commonwealth Games in 2014. With less than a year to go six of the Glasgow School of Sport gymnasts are already in the 2014 squad working hard to gain their selection scores. Almost 30 gymnasts and 10 coaches have travelled to Russia and many more have benefitted from coach education and joint training sessions.
The City of Glasgow Gymnastics Club has embraced this exchange and each year opened up their gym to delegations from Russia. Scottish Gymnastics endorse this exciting partnership and have welcomed their National Coaches taking part in the exchange.