Home Sport Glasgow School of Sport More Information
Sport Education
The sport education curriculum at the Glasgow School of Sport is written and delivered by the S&C team with delivery support from staff from each sport.
The sport education curriculum enables pupils to gain additional Scottish Curriculum Qualification Framework (SCQF) credits towards the entry points required for college or university as detailed in the following table: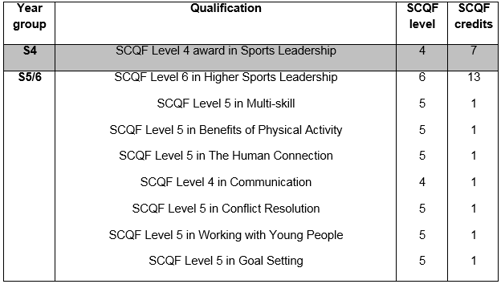 As part of the SCQF level 6 in Higher Sports Leadership pupils will also undertake the following awards/certificates:
SportScotland Safeguarding and Protecting Children workshop
SportScotland Coordination and Control workshop
SportScotland Physical Literacy workshop
SportScotland Understanding Talent workshop
National Sports First Aid at Work
Positive Coaching Scotland award
Scottish Disability Sport Senior Pupil award
Level 1 Award in Strength and Conditioning for Sport (QCF)
All S4 pupils participate in a single period of Sport Education per week with S5/6 pupils participating in one double period per week. Sport education is not available to those pupils who choose four academic subjects with Bellahouston Academy.