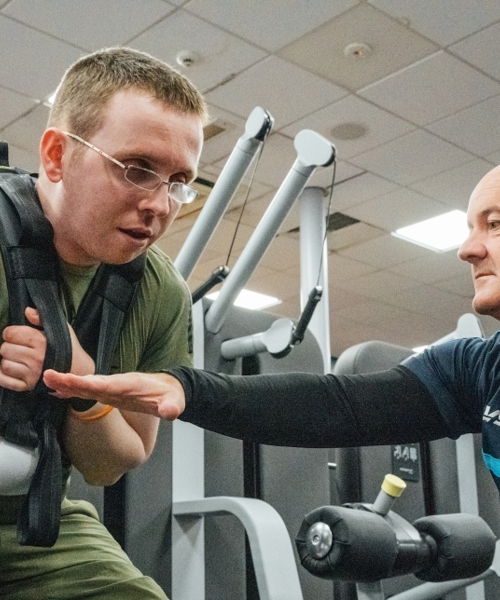 Help us transform another life
Because a healthy Glasgow life is a great Glasgow life
Donate Now
Glasgow Life is the charity that works hard to improve the health and lives of your community through activities in sport, music, art, culture and learning. Every day we help people right across the city live a great Glasgow life.
In your local Glasgow Club we are helping many people like Erin, Charlie and Louis who without the help of our disability coaches, trained volunteers and specialist clubs would struggle to get out, get fit and make friends.
Our Sport Development programmes are run across the city and help to improve both physical and mental well-being through sport.  Clubs like the Friday Multi-sports Club, help reduce social isolation for young people and their carers by offering activities and social interaction tailored to a variety of support needs.  Our disability coaches, working in both groups and one-to-one settings, help to inspire participants to reach their own goals – from losing weight and getting fitter to qualifying for the Paralympics.
Use our Activity Finder to find out more about our wide range of clubs and activities to help you or someone you know.
Check out our Volunteering information if you are interested in helping us transform lives through sport or volunteering at one of our clubs. 
We help thousands of people across the city every year to live a great Glasgow life.  Here are just three of their stories:
Erin's making friends
Complex needs can make an active social life difficult. Thanks to Glasgow Life's disability sports clubs, Erin is getting fitter and making friends.  Watch Erin's story»
Charlie's building confidence
A rare genetic disorder left Charlie feeling isolated, anxious and without hope. Thanks to special support from Glasgow Club, he's getting out and about again. Watch Charlie's story»
Louis is going for gold
Louis' learning difficulty means not every swimming coach could help him reach his full potential. Thanks to Glasgow Life's disability coaches, Louis is now aiming for the 2020 Paralympic Games.  Watch Louis's story»