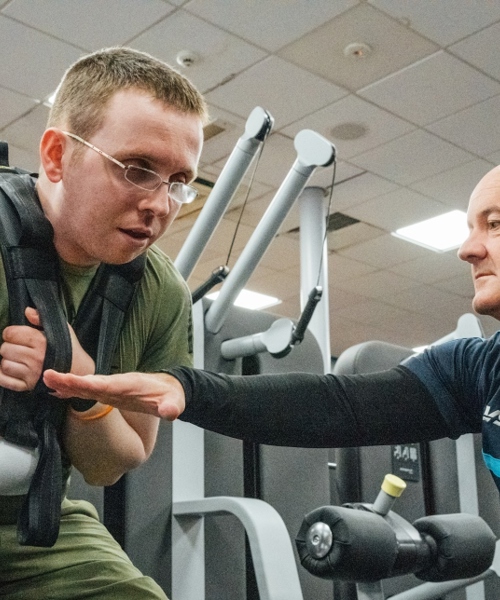 Transforming lives through Sport
Help us to transform lives through sport
A healthy life is a great life. Not everyone has a healthy Glasgow life – with your support means they can
Make a donation online
Sport and fitness can improve physical and mental well-being. Sadly, many people across Glasgow are unable to access sports programmes for different reasons. Poverty, disability, age or health problems - both physical and mental.
When you support Glasgow Life you help people across the city to live a healthier Glasgow life
We work hard to improve the health and lives of communities through activities in sport, music, art, culture and learning. Thanks to your support we can help people across the city have a great Glasgow life every day.
You help people like Erin build friendships. Erin's disability means finding clubs and activities she can take part in difficult. Not only does that make staying active tough but after she left school, both Erin and her Dad became isolated as they struggled to fill their days. Since joining one of our multi-sport clubs and attending weekly sessions tailored and adapted to participants' complex additional needs, Friday nights are now spent with friends getting fit and having fun.
"We come here and we interact with lots of Erin's friends. Erin gets physical exercise. Erin gets to feel as though she is part of her community. Without this type of resource and this type of club, Erin's experience of isolation would be increased…so would mine." Erin's dad, Austin.
Clubs like these, and many of our other clubs, help reduce social isolation - for some members it's their only chance to exercise and meet friends. Please help us keep these clubs going.
You help people like Charlie build confidence. Charlie has a rare genetic disorder, he's had more operations than he can count and for a while he felt completely lost. He spent a year in the house completely isolated. When he started training with one of our specialist disability coaches, it gave him a reason to get up in the morning, a reason to leave the house and most importantly he found his confidence.
"When I first came I still felt a wee bit intimidated but Sandy my coach took me round every machine, showed me how it worked and figured out the ways to adapt them to my limitations. I've lost over two stone, my personal life has improved dramatically. My whole attitude on life has changed." Charlie.
Our specialist sports coaches give one-on-one support to help people to reach their own goals – from losing weight and getting fitter to finding confidence and a better life.
You help people like Louis go for Gold. Louis is an athlete, a champion swimmer. He is also disabled. This, alongside a number of problems at home, meant he nearly gave up swimming during childhood. Thanks to support from Glasgow Life and our coaches his talent was nurtured and Louis has won numerous national and international titles. He is currently working towards his latest goal – qualifying for the 2020 Paralympic Games.
"It's a dream come true. I don't think I'd have got this far if it wasn't for Danielle who kept pushing me." Louis
"Without the support that Glasgow Life gives athletes like Louis he wouldn't be swimming and it's not just around his additional learning needs but family circumstances. Without the support that Glasgow Life offer to keep it affordable for people in the local area, he would have stopped swimming at 12." Danielle, Louis' coach.
We know there are many more people out there who need us. We want to be able to ensure everyone has a great Glasgow life. With your support we can.
Your donations help us to run a wide range of sport and fitness programmes across the city. When you give to Glasgow Life you give more people a healthier Glasgow life.
Watch our stories
Erin's story

Charlie's story

Louis's story