GlasGowGreener August update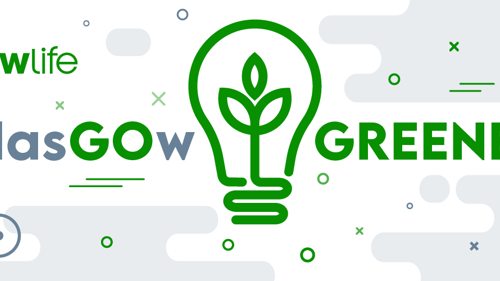 Welcome to this late August update on GlasGowGreener – our sustainability campaign which aims to help us all play our part in supporting Glasgow Life's climate actions.
Many thanks to everyone who completed last month's GlasGowGreener challenge – our July quiz! And congratulations to Isobel Shire of Special Projects and Paul McGroggan of Glasgow Club Bellahouston who had the highest scoring entries.
Did you manage to answer all the questions by referring to our Glasgow Life Intranet Sustainability pages? Whether you took part in the quiz or not, it's worth making time to browse through them. You'll find lots of information to help your team improve its green credentials and boost the positive impact you can make, collectively and individually.
You can still check out the quiz by clicking this link and you can also find out how well you did by viewing the correct answers here.
How green is your journey?
Now that the UCI World Cycling Championships have rolled out of the city, we thought this would be a perfect time for a challenge focused on sustainable travel. So we're asking you and your team to think about how you get to and from work, and how environmentally-friendly your travel habits are.
The type of transport we use on a daily basis shapes our carbon footprint. Choosing the most sustainable options, whenever possible, means reducing the impact on the environment of regular and repeated journeys. Even small changes to our travel behaviours can make a real difference. That not only supports Glasgow Life's climate actions, it helps support the city in working toward its ambition of achieving net zero carbon emissions by 2030.
To wheel or not to wheel
Active forms of travel, such as walking and cycling, are the most sustainable way of getting around the city. In addition to benefiting the environment, for those moving to physically active travel there are of course also huge health and wellbeing benefits. Your pocket will feel the difference too!
There are lots of resources available to help you make the move to active travel. Find out more about active travel in Glasgow on Smarter Travel Glasgow and Glasgow City Council's cycling in Glasgow pages.  The Cycle to Work scheme can help you save on the cost of a new bike up to the value of £1,500. (Find out more and sign up to the scheme by visiting Workplace Bikes, entering the access code S196242G, and selecting Glasgow Life as your employer.) You can also find secure cycle parking options throughout the city with cycle hoop rentals.
If travelling to work involves a longer journey into the city, you are immediately awarded 'green points' if you can use public transport rather than driving. And if you have to choose the car over the train or bus, remember that vehicle sharing will help reduce the environmental impact.
On to this month's GlasGowGreener challenge!
For our sustainable travel challenge, we'd like your team or venue to choose one of the following methods of travelling to work and then promote this to colleagues in your service area or venue.
Walking
Cycling
Park and Ride
Car-share
Bus
Train
Tell us what creative ways you've found to persuade colleagues to adopt this sustainable form of transport. And let us know if you're perhaps tapping into your team's competitive spirit to encourage them.
We'd love to hear too about the difference staff members feel they have made to their lives as a result of changing their travel habits, and the benefits they are experiencing – such as how much their physical activity has increased (perhaps for example by steps per day).
Complete the details in the table below and return this by the end of September to sustainability@glasgowlife.org.uk.  
Don't forget to make sure you let us know which Sustainability Team you're competing for – and you can check whether one has already been set up for your venue or service team here.
Good luck!
GlasGowGreener Challenge – August 2023

Your team's name / location is:

 

Our team representative is (name & email address):

 

The Sustainability Champion your team has nominated is (name and contact details):

 

What sustainable travel method are you promoting to your service area or venue or colleagues?

 

How are you encouraging colleagues to adopt this method of travelling to and from work?

 

Tell us about the benefits colleagues are experiencing as a result?  

 
Give feedback about this page