GlasGowGreener November update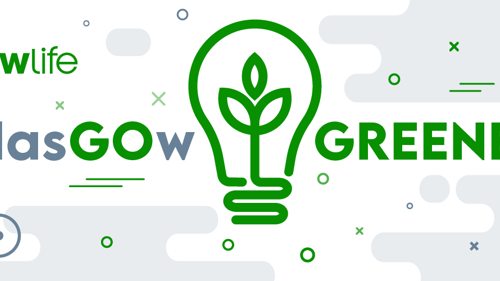 Welcome to our November update on GlasGowGreener – Glasgow Life's sustainability campaign which is designed to help us all play our part in supporting the charity's climate actions.
Thanks to everyone who responded to our October challenge by sending suggestions of ways to save energy this winter.
Your top three tips are: 1. switch off – turn off any lights or electrical equipment when they aren't needed, 2. wrap up – insulate yourself by dressing appropriately for the temperature/ weather, and 3. don't heat empty rooms – turn off radiators in rooms and areas you're not using. We'll share all the ideas you sent via our intranet sustainability pages, so check them out to find out more ways you, and the planet, can benefit from!
Help those in need by recycling
Being environmentally responsible can also benefit others. A charity project our Sustainability Group is supporting is doing just that, and we hope you'll get involved to help local people in need this winter.
Sustainability and circular economy champion, The Leith Collective, is running a Coat Exchange Campaign which is seeking donations of pre-loved coats.
These will then be made available for collection, free of charge, from the award-winning Community Interest Company's St Enoch Centre unit and newly-opened Glasgow Fort store.
All profits from the Leith Collective's eco-conscious shops go toward supporting the community and promoting sustainability through the arts. 
From Monday 27 November to Friday 1 December, the following Glasgow Club venues will have collection points for donated coats: Bellahouston, Emirates, Gorbals, Kelvin Hall, Scotstoun and Tollcross.
Coats can also be handed in directly to the Leith Collective's St Enoch Centre unit. Donations of adult's and children's coats (of all sizes, clean, and with pockets emptied) are welcome.
Last winter's campaign saw more than 7,000 coats donated and 'rehomed' to those in need so please help this year's make an even bigger impact!
Now on to this month's challenge!
In June, our GlasGowGreener update highlighted Warp It – a great resource that colleagues in Glasgow Life, Glasgow City Council and other public sector organisations can take advantage of to give new life to surplus items that would otherwise end up in landfill or long-term storage.
The Warp It redistribution portal enables teams to give, loan or claim a wide range of items such as desks and chairs, fixtures and fittings, electrical equipment, or office supplies including stationery and ink cartridges.
Listing items for others to use and claiming or ordering things you need is simple and straightforward. And there are lots of benefits of connecting item donors with potential recipients including reducing procurement spend, minimising unnecessary purchasing of new equipment, cutting waste and waste disposal costs, and reducing our reliance on storage.
If you've not already created a Warp It account, you can do that at www.warp-it.co.uk/glasgowlife and our new intranet has a dedicated page to help you can get started using Warp It! Click here.
For this month's challenge, we'd like you to post or claim an item on Warp It, then tell us about it by completing the table below and sending it to us, by 15 December, at sustainability@glasgowlife.org.uk.
GlasGowGreener Challenge – November 2023

Your team's name /location is:

 

Our team representative registered on Warp It is (name and email address):

 

Has your team's Warp It registered member viewed the video guide at:

https://blog.warp-it.co.uk/all-you-need-to-know-about-getting-started-on-warp-it ?

 

Tell us what item/s your team has posted on Warp It or secured via the portal for re-use?

 

Tell us about any other ways your team is embracing the circular economy by recycling, re-using or re-purposing surplus items or materials.

 
As always, thank you for supporting our GlasGowGreener campaign by taking part in this month's challenge. Remember that the more you get involved in, the higher your chances are of winning a prize, as we'll be celebrating the best contributions throughout the year at a special conference and awards ceremony next summer.
Give feedback about this page