GlasGowGreener September update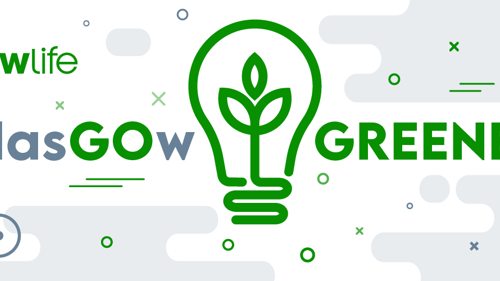 Welcome to September's update on GlasGowGreener – our sustainability campaign which aims to help us all play our part in supporting Glasgow Life's climate actions.
Thanks to everyone who took up our last monthly challenge to adopt more environmentally friendly travel habits. As always, we're grateful for your support. We've had a fantastic response to our GlasGowGreener challenges so far, and it's great to see so much enthusiasm and commitment. We hope you'll continue to be inspired by our challenges as the year continues.
Boost your environmental efficiency know-how!
This month, we've a learning challenge for you. It's simple to complete, won't take long and it's fun too.
Lots of you have been putting yourselves forward to become Sustainability Champions so why not channel that interest into some relevant training?
The Green Champions Training Course, offered by Business Energy Scotland, is a free online course. Developed by specialists to help increase understanding of how to use resources efficiently, the course offers skills and tools to improve environmental performance and save money too. There are lots of training modules, ranging from Foundation to Advanced level, so you can choose ones that are of most interest to you and suit your needs and experience.
You can check out feedback from people who have taken the courses here.
So, on to this month's challenge!
All you need to do for our Green Champions course challenge this month is create a free online account via this link, and then complete the first module in the Foundation section, Why resource efficiency? Once you've done that, take the quiz and let us know your score by completing the details in the following table and forwarding it to sustainability@glasgowlife.org.uk by 20 October. That's it – simple! And thanks for taking on this month's challenge.
GlasGowGreener Challenge – September 2023

Your team's name / location is:

 

Our team representative is (name & email address):

 

The Sustainability Champion your team has nominated is (name and contact details):

 

What is your quiz score?

 
Results time for our wildflower challenge
Remember the wildflower seeds we circulated at the beginning of the summer, asking you to plant these to support our natural environment and ecosystem?
It's time to complete the challenge by telling us about your results. We're keen to hear from everyone who planted seeds back in May/ June and find out how you got on. 
Did your plants thrive and bloom, and were you able to identify any? Were there things that didn't go to plan? Did you find ways of overcoming challenges and help the plants grow, and what did you learn along the way? Has taking part in our wildflower project inspired you to start other eco-friendly activities or given you a greater appreciation of biodiversity?
We'd love to hear your stories and also see the results of your efforts, so please send us details, with some photographs of the plants you grew, to david.thomson@glasgowlife.org.uk by 20 October so we can select a wildflower winner! Remember too to note the name of your Sustainability Team.
As always, thanks for your support and efforts – and watch out for next month's GlasGowGreener update!
Give feedback about this page