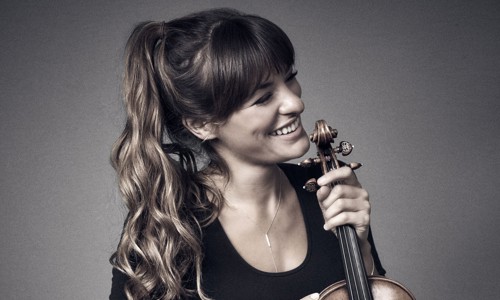 Nicola Benedetti has said she find the lack of importance given to music tuition worrying, adding that music education in Scotland is 'massively misunderstood in terms of its value and its importance within our development.'
The Scottish-born classical violinist is in demand around the world. As well as becoming the youngest recipient of the Queen's medal for music in 2017, she's now launched her own foundation to encourage children and young people to engage with music.
'The foundation will put on large-scale inspirational workshops that hopefully inspire people to not only view music education differently, but to actually have a different experience of making music.'
She says music teachers are often over-looked and says half of the charity will be dedicated to supporting them.
For music teachers, it's like an exaggerated version of what all teachers struggle with – they're under-resourced and often under-appreciated. They're under-funded and not kept in a position where they're continually inspired to do the best they can do. It's a case of trying to bolster the work they do with appreciation and information.
Although the 31-year-old now lives in London, she credits Scotland with playing a formative role in her musical development. 
'I grew up in Ayrshire until I was 10 years old and I was very much part of the Suzuki violin and music making community there. I took part in local orchestras, in local competitions and local festivals which obviously helped deepen my love for playing. All those things make an enormous difference to the essential relationship with your instrument.'
Currently on tour with the National Youth Orchestra of Great Britain, Benedetti will appear as soloist at the BBC Proms on 27 July. She's also got an album coming out with pieces written for her by the jazz musician Wynton Marsalis.
'I'm very excited about it because it's all completely new music – it's been a serious heart felt project for me and has been totally unique in its experience. Obviously most of the time we're playing music from people we can't actually communicate with, people that lived a long time ago so it's wonderful to be able to work so closely with somebody that's writing the music at the time. They're able to actually tell you: "yes, that's capturing what I'm looking for" – or not. It's a totally different process.'
Her latest album Violin Concerto And Fiddle Dance Suite, is released by Decca on 12 July.