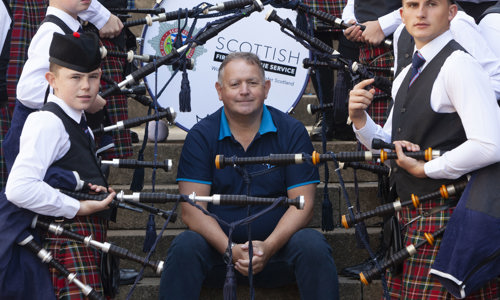 Roddy MacLeod, Festival Director of Piping Live!
Roddy MacLeod, Festival Director of Piping Live!
Roddy MacLeod is considered one of the most accomplished pipers of his generation and a highly regarded teacher, recitalist and adjudicator. He also happens to be Festival Director of Piping Live!, the week-long Glasgow International Piping Festival now celebrating it's 16th year.
Last year's festival boasted 213 hours of free programme, the equivalent of watching Braveheart 66 times! With this year promising to be bigger and better than ever, Glasgow UNESCO City of Music caught up with Roddy during Piping Live! 2019.
What's special about this year's Piping Live!?
We're hoping for over 45,000 people to visit the festival over the week and we've got performers from all over the world - Malaysia, New Zealand, America and Australia.
In terms of what's different about it this year, we've added two days of educational workshops, with the world's leading pipers and drummers so they're going to be held in the RCS (The Royal Conservatoire of Scotland). That's a completely new strand of the programme and we've already got 400 people signed up for these two days of workshops.
What will your personal highlights be?
Certainly the Dougie McLean concert on Sunday night and we have a brilliant concert on Friday night featuring bands from Nova Scotia called Beòlach and a really fantastic Irish group called Lúnasa. Looks like it's going to be a fantastic line-up. It's really difficult to choose my highlights because there's so much to choose from!
Bagpipes are usually associated with Scotland – how is Piping Live! an international festival?
The full title is the Glasgow International Piping Festival and we put the word 'international' in there to celebrate the diversity of piping traditions. Almost every country in Europe and countries beyond Europe have some form of bagpipe so we wanted to bring all of that to Glasgow where we have a very healthy Scottish highland piping scene. In doing that, we've been bringing not just the piping but also the songs and the dances – all the cultural aspects - from these countries.