Vitality
Find your nearest session
Use our Activity Finder to find your nearest Vitality session
Vitality Classes
Make your Good Move today
Call our team now
0300 343 0400
People with medical conditions can have fun getting active with the support of our specially trained Vitality instructors.
Our fun and friendly Vitality classes have been specially designed for people living with a range of medical conditions. They are also suitable if someone has a fear of falling or find that strength and balance is impacting on daily life. Our welcoming and supportive instructors will give you the confidence to join in, get active and lead a fuller, more independent life.
We'll help you choose a level of activity that best suits your needs, making sure you are safe, comfortable and above all else having fun.
Please note that due to the current Coronavirus restrictions on group activity indoors, Vitality classes are not running in Glasgow Club venues. 
By playing this video the provider may set cookies
Your Guide to Vitality Classes
Strength and Balance Class
Designed for those who walk slowly and may use a mobility aid, this class improves strength and balance to help you feel steadier on your feet. This class is suitable for people with breathing difficulties. Find your nearest Strength & Balance Class here.
Strength & Balance Circuit
Ideal for people who are mobile (with or without a mobility aid) but who may struggle with some movements and everyday activities such as stairs. This class is also suitable for people with breathing difficulties. Find your nearest Strength & Balance Circuit Class here.
Step In Circuit
Designed for those with independent mobility but may have some difficulty doing daily activities. It is suitable for those who want to start or keep active, meet new people and have fun whilst improving strength, co-ordination, fitness and flexibility. Find your nearest Step In Circuit Class here.
Step Up Circuits
For those who are mobile (without an aid) and who have minimal difficulty doing daily activities. This class will help improve fitness and strength. Find your nearest Step Up Circuit Class here.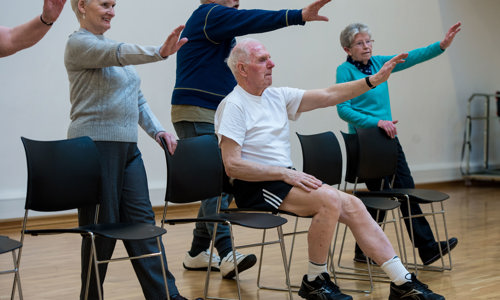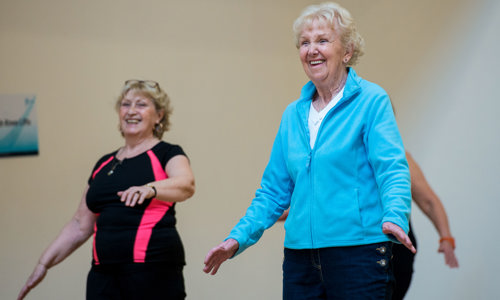 Keeping Active at Home
With normal routines and lifestyles being impacted by the global Coronavirus pandemic, maintaining a level of mental and physical wellbeing has never been so important. This is being made even more difficult by restriction of movement and social distancing, meaning being active at home may be the only way for us to exercise.
FREE Get Active Online Membership
Our twice weekly Live Vitality classes are now available as part of Glasgow Club's FREE 'Get Active' online membership. To access these classes, all you need is an email address to sign up with and you will receive access to the following features:
Up to 5 'Fun & Easy' live classes each week
Access to all 'Fun & Easy' videos on-demand
Mental Wellbeing tips
LES MILLS On Demand Free Trial with a 33% discount on membership
Visit the Glasgow Club Online website for more information.
There are also lots of useful videos and resources detailed below to help you be active at home.
Wellbeing Packs
We are providing packs for our participants who perhaps don't have access to online services which contain simple exercises that can be done around the house. These will help to re-build strength and balance which can prevent falls and make daily tasks a little easier. To request a pack for yourself or for an older friend or relative, or speak to someone about getting more active, please contact us on 07500881808 or email neil.mcintosh@glasgowlife.org.uk 
Step In & Step Up Activities
Allow our brilliant Vitality instructor Lori take you through some activities that are safe to do at home and require next to no equipment. The movements in these videos correspond to our Step In (moderate intensity) & Step Up (higher intensity) classes.
Step In (Moderate Intensity)'
By playing this video the provider may set cookies
Step Up (Higher Intensity)
By playing this video the provider may set cookies
Being physically active is an essential ingredient for our health and wellbeing whatever our age. If you're not as fit as you once were or think more gentle exercise is for you then you can find out more ways to be active during the coronavirus lockdown on our Glasgow Club website.
By playing this video the provider may set cookies
It's important to take care of your mind as well as your body, especially if you have to stay at home because of coronavirus. The Glasgow Club have put tips and resources together to help you keep on top of your mental wellbeing.
NHSGGC have developed a series of exercises you can do at home that will help you work on improving your strength and balance, similar to movements you may do in our Vitality classes. There are seated and standing options depending on your ability, so remember to ease yourself in gently.
Stay Active, Stay Steady Seated Exercise:
By playing this video the provider may set cookies
Stay Active, Stay Steady Standing Exercise:
By playing this video the provider may set cookies
Parkinson's UK Staying Active at Home
Parkinson's experts share their top tips on how to stay active at home, plus links to free online programmes to follow during social distancing measures.
Low-impact exercises can improve your health and fitness without harming your joints. Examples of sitting, strength, flexibility and balance exercises are included below:
Short on time? Hate the gym? Too tired to exercise after work? These 10-minute workouts are just what you need. These equipment-free fitness routines are great to do at home and short enough for you to easily fit them into your daily schedule.
Pilates is a form of exercise that focuses on balance, posture, strength and flexibility. It's suitable for people of all ages and fitness levels. Yoga focuses on strength, flexibility and breathing to boost physical and mental wellbeing.
The Body Coach "Senior Workouts"
The Body Coach, Joe Wicks, shows you how to be active at home using simple and easy exercises.
By playing this video the provider may set cookies
Useful documents
Accessible formats
If you require documents in large print, braille, or audio versions please email: info@glasgowlife.org.uk