Walking Bears
Join the Walking Bears Facebook Group
Keep up to date with news, events and prizes in your area by joining the Walking Bears Facebook Group. Share your experiences and images with other Walking Bears families!
Walking Bears Facebook Group
Please complete a Walking Bears evaluation
Let us know what you thought about taking part in the project. You will be entered into a prize draw for a chance to win a balance bike or scooter for your child!
Walking Bears Survey
An exciting new project for children aged 3 – 5 and their families to encourage active travel and connection with local organisations, venues and green spaces in the Bridgeton, Camlachie, Dalmarnock and Parkhead areas.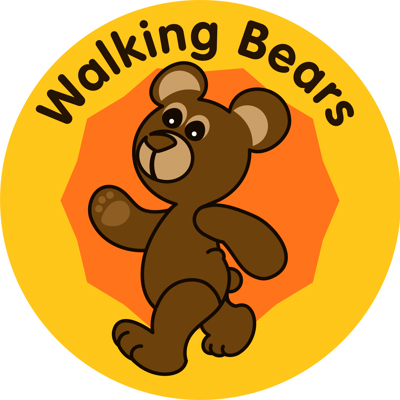 How to involve your family in the Walking Bears project:
***You must live in the Bridgeton, Camlachie, Dalmarnock or Parkhead areas with a child aged 3 - 5 to qualify for a pack***
Sign up for a pack through your child's nursery OR at one of the Community Organisations involved in the project (see Walking Bears Map for competing organisations). Walking Bears staff will be visiting these places over the coming weeks.
Alternatively, you can contact us on 0300 343 0400 or email walking@glasgowlife.org.uk to arrange collection of a pack
How to play:
Complete registration form, join the Facebook group and off you go with your Walking Bears pack!
Visit all the different Walking Bears location using your map - there are loads to visit including adventure playgrounds, libraries, green spaces and early years activity classes!
Record your progress in your passport, earning stickers for places you've visited and measuring how many steps you've taken as a family using the pedometer for parents/carers to wear.
Take photos of you and your bear as you go and share them to the Walking Bears Facebook Group for other families to see where you've been.
Once you've visited most/all locations, complete the evaluation form in your pack and send back using the stamp addressed envelope provided along with your passport to show where you've been.
This will enter you into a draw for some great prizes - keep an eye on the Facebook Group to see if you've won!
Bring your Teddy Bear and join us for a series of Family Teddy Walks in November!
Meeting in Bridgeton Library, we will lead a short walk to visit various attractions and activities in Glasgow Green, including Free Wheel North, the Adventure Playground and the People's Palace.
Thursdays 14th, 21st and 28th November
11.00am - 12.00noon
Meet inside Bridgeton Library
Open to all families with children aged 0 - 5 years
Light lunch provided after the walk in Bridgeton Library Cafe 
Alternative activities can be arranged if weather is poor
Useful documents
Accessible formats
If you require documents in large print, braille, or audio versions please email: info@glasgowlife.org.uk