Focus on: Communities and Libraries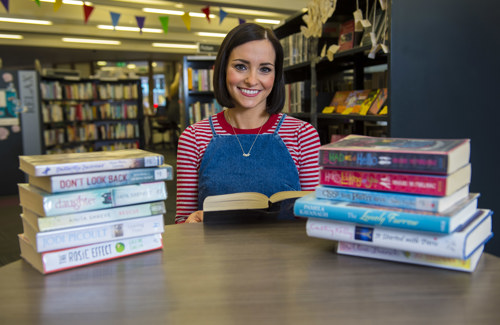 Published on Thursday 9 April 2020
We spoke to our head of Service, Andrew Olney, to find out about the work being undertaken in Communities and Libraries during the Covid-19 pandemic. Here's what he told us.
How has the coronavirus pandemic affected libraries and communities in Glasgow?
With a mission based around bringing people together in community settings, and with the majority of our venues across the city welcoming the general public and providing space for our partner organisations, we were acutely aware that the situation would have an immediate impact on our service delivery. 
So how did you go about closing Glasgow's 33 libraries and 24 community centres?
Sensibly, the team had already begun planning, so we were able to close most of our libraries and community centres to the public on the day the lockdown guidance came out. Closing down a public building isn't as simple as just shutting the doors though. We had to prepare the buildings for a complete closure to both staff and customers and create a process for regularly checking the heating, water and alarms, as well as security monitoring. That took a little more organising behind the scenes.
Did you keep some buildings open at this stage? 
Yes, initially we kept eight buildings open. Most of our community centres lease space to local charities delivering childcare. They couldn't close at such short notice as families were relying on them, and at this stage people were still going to work. We also had a local charity that was undertaking food distribution.
When the government updated its advice a few days later, nearly all of the childcare charities that we provide space for took the same decision that we had and suspended their operations, meaning we could close six of the buildings we had kept open until then.  
Are any buildings still open now? 
Yes, Possilpoint is currently open three days a week. There's a fantastic charity there called Young People's Futures which is working to distribute food in the north of Glasgow. There's been a lot of positive coverage of their efforts on social media, and it's great that they're being recognised and are able to continue supporting vulnerable people in the community during this difficult time. Govanhill Community Centre is also open one day a week to support a local charity that's providing essential childcare services for key workers and we've temporarily opened three libraries on a part-time basis to process Universal Credit applications for people who need digital support or access. 
Why is Universal Credit so important?
Access to Universal Credit is a lifeline for many people and families; particularly during this crisis. Our teams have been busy, handling more than 120 applications in the past fortnight. 
Last year we supported nearly 1,700 people with making Universal Credit claims, helping to secure at least £10.5m in financial benefit for those customers. More than a quarter of those people also required access to translation services, which are provided free of charge through our programme.
How will this service continue? 
We've been working hard behind the scenes to put in place the technology and framework needed to be able to process applications over the phone, and from Tuesday (14 April) we'll move to a completely virtual service. During lockdown, people won't have to come into our libraries in person, and our team will be able to handle an increased number of applications. 
How are you keeping staff safe?
We undertook risk assessments and put arrangements in place in each venue to ensure our staff and customers were able to follow the latest public health guidance. We're fortunate that our staff are very conscientious and aware of their importance in helping people in difficult financial situations through these extremely challenging times. 
What other changes have you put in place?
Some changes are ours and some are being delivered with our partners. 
We've amended our application process to enable new users to join online and access our services from home. This includes our vast eLibrary, which stocks a huge range of digital content, including more than 12,000 eBooks and audiobooks, over 100 popular magazine titles and 15 million songs, all of which are free to download to a mobile phone, PC or tablet. 
Our aim as a library service is to give people the opportunity to increase their skills and knowledge, whether that's simply enjoying reading a good book (which in itself is often an undervalued contributor to boosting our mental health!) or accessing the many research, study and businesses support eResources we have available.
So far, our engagement rates have been hugely positive and we're working to build on that in the weeks to come.
At the same time, The Macmillan Cancer Information Service which is operated through our libraries has moved to phone-based consultations, and the Business and Intellectual Property Centre based at The Mitchell is in the process of moving online. It has a programme of useful webinars provided by the British Library and a variety of free resources to support businesses.  
We're also currently scoping technologies and testing models to allow us to deliver online learning provision and virtual groups for our youth clubs to ensure we can continue providing these important services.
Fundamentally, we want to inspire the people of Glasgow to engage with our services: read, learn and have the chance to widen their horizons. It's early stages, but it's looking as if we're managing to do this in new ways and our whole team is really excited.  
How has your team responded?
The Communities and Libraries team has always been passionate about supporting the people of Glasgow and I'm grateful to be able to work with such talented and dedicated people. 
Their reaction to the challenges we've faced in the past few weeks, not just in our service delivery but in supporting work across the city, and their willingness to find solutions has been inspiring. I want to say a huge thanks to each and every one of them.
While it may seem difficult to look ahead at this point, I think how we're responding to this situation will help us to deliver our services even more effectively in the future.
I think the agility and flexibility we've shown, together with our digital first approach, can enable us to better meet the needs of all of our customers while freeing up capacity for our frontline staff to focus on those people who are most in need of our support.