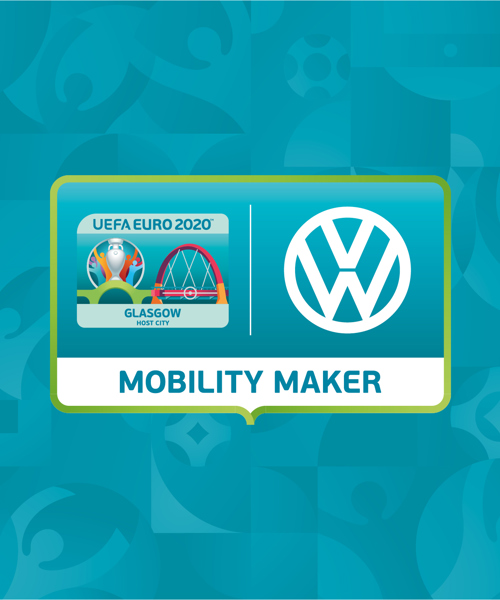 Applications
Applications for the Volkswagen Mobility Makers volunteer programme are currently closed but please continue to check back for updates. If you had previously applied, you should have received an email from us. If you have not received an email, please contact the team @ hostcityvolunteers@UEFAEuro2020Glasgow.co.uk
Our volunteer team will be working from home for the foreseeable future and will not be based in the Eastgate office. Responding to enquiries may take longer than usual during this period but we will endeavour to respond to any questions as soon as possible.
Planning update
Glasgow was reconfirmed as one of 12 host cities for the UEFA EURO 2020 football tournament in June last year, when the tournament was postponed due to the coronavirus pandemic.
The tournament is now scheduled to take place from 11 June to 11 July 2021, with UEFA confirming that Glasgow's three Group D matches, which now include Scotland, will be held at Hampden Park on 14, 18 and 22 June, followed by a round of 16 match on 29 June 2021.
We are working hard to review operational plans, implementing key safety measures to ensure compliance with COVID-19 regulations. Whilst recognising the overwhelming desire of fans to attend the tournament and Fan Zones, public safety remains our priority.
Volunteers play an integral role in the success of many of the events hosted by the city and without them, Glasgow would not be able to host world-class, large scale sporting occasions such as these, so we want to sincerely thank you for your interest and understanding while we work through plans.
Thank you for your ongoing patience and enthusiasm for this world-class event to be held in Glasgow.
Volkswagen Mobility Maker Glasgow - Uniform Size Guide
UEFA EURO 2020 Host City Volunteer uniform size guide:
Male and Female size charts
Volkswagen Mobility Maker Glasgow- Timeline
Key dates for your volunteer diary will be advised early 2021
UEFA EURO 2020
Here's some more information on the Volkswagen Mobility Makers role
Key tasks

What skills are we looking for?

When and where?

Eligibility

Support offered

FAQs
UEFA EURO 2020
Visit the UEFA EURO 2020 website for more information on the tournament.
UEFA EURO 2020 Website