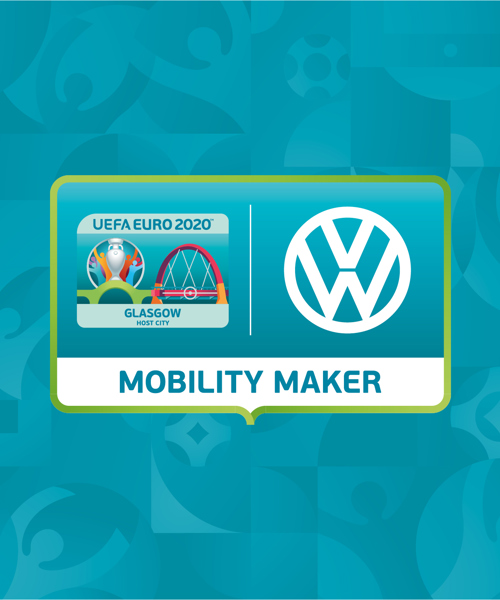 Glasgow's Host City status is confirmed for UEFA EURO 2020, which will now take place 11 June to 11 July 2021, with matches at Hampden Park on 14, 18, 22 and 29 June.
We believe reconfirming as a host for EURO 2020 in 2021 is a clear signal that Glasgow and Scotland is committed to being open for business once again, albeit with additional measures in place to address any ongoing COVID-19 related guidance.
UEFA EURO 2020 will make a significant contribution to creating a festival atmosphere in the city centre, provide an opportunity for communities to gather and celebrate together and give a welcome boost to businesses in the city following an exceptionally difficult year.
We are currently working through the revised plans for the tournament next year and in particular, taking cognisance of new industry guidance arising from the COVID-19 pandemic to ensure the health, safety and wellbeing of you as volunteers, our workforce and the public alike.
As a volunteer, you play an integral role in the success of many of the events hosted by our city. Without your support Glasgow would not be able to host world-class, large scale sporting occasions such as these, so we want to sincerely thank you for your ongoing support.

Next Steps
We are hopeful that many of our volunteers who accepted a role with us earlier in the year will still be keen on taking part. We have sent a link to all volunteers who accepted a role earlier asking you to follow the link to confirm your position. If you have any questions, please don't hesitate to get in touch with the team.
However we appreciate these are unprecedented times and that the postponement of the event by a year won't suit everyone. In order that we can continue to plan, we would ask that anyone who wishes to withdraw from volunteering with us next year please let us know via email and we'll remove you from our database. If you are unsure just now and would rather be placed on a reserve list until your own circumstances are clearer, please email and let us know.
Please be aware that we will be launching another recruitment drive to fill any vacancies that may arise. However everyone who was offered and subsequently accepted a role as a Host City Volunteer will not need to reapply or attend another skills match session in the future. We will review our plans for training, vetting and uniform and accreditation operations and share the renewed timeline for 2021 with you when it is available.
We'll be providing further communications and information over the coming months as planning develops, so keep an eye out on our social media channels and feel free to drop us an email if you have any questions in the meantime.
Please also note our Volunteer team will be working from home for the foreseeable future and will not be based in the Eastgate office. Responding to enquiries may take longer than usual during this period but we will endeavor to respond to any questions as soon as possible.
Volunteer Applications are currently closed.
Volunteer Applications are currently closed.
Keep up to date with the latest tournament news by following:
Facebook - @GlasgowEURO2020
Twitter - @GlasgowEURO2020
Instagram - @GlasgowEURO2020
Read more about the Fan Zones.
For any questions specific to UEFA EURO 2020 Host City – Volkswagen Mobility Makers programme contact:
HostCityVolunteers@UEFAEuro2020Glasgow.co.uk
Log into your volunteer portal.
Volkswagen Mobility Maker Glasgow - Uniform Size Guide
UEFA EURO 2020 Host City Volunteer uniform size guide:
Male and Female size charts
Volkswagen Mobility Maker Glasgow- Timeline
Key dates for your volunteer diary will be advised early 2021
Here's some more information on the Volkswagen Mobility Makers role
Key tasks

What skills are we looking for?

When and where?

Eligibility

Support offered

FAQs
UEFA EURO 2020
Visit the UEFA EURO 2020 website for more information on the tournament.
UEFA EURO 2020 Website