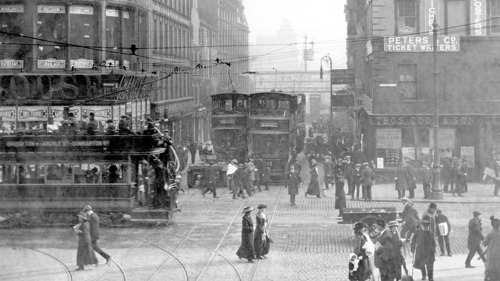 Disruption due to industrial action: 23-27 October
We are anticipating disruption from Monday to Friday, 23-27 October due to strike action by Unison. This may mean the City Archives will have to close during this time.
If you have an appointment booked that may be impacted by this, we will be in touch to discuss alternative options.
We will post further updates here and on our social media channels. Booking for appointments will resume again for week beginning 30 October.
We apologise for any inconvenience this may cause.
About the City Archives
The City Archives are housed in the Mitchell Library and include the official records of various local authorities as well as a large number of private archive collections.
Planning your visit to Glasgow Archives
Browse our Frequently Asked Questions ahead of your visit.
If you still can't find what you're looking for please get in touch, you can either phone 0141 287 2910 or send us an email.
Yes, please book at least one week in advance. Appointments are on Tuesday to Thursday from 10am - 4pm, and on the first Saturday each month, at 10am to 4pm. 
To book an appointment, please complete the Archives Appointment Booking Form
at Archives Appointment Booking Form and email to archives@glasgowlife.org.uk
Your appointment will be confirmed by email. Please bring your confirmation email along with you on the day.
Customers can request up to six items in advance of an Archives session. Materials are only available for use during your appointment.
You will be assigned a table and your order will be placed there in advance of your arrival.
You will be sent Reader's Registration form in advance of your visit. You can either email this form in advance to archives@glasgowlife.org.uk or bring it with you on the day.
You will be advised in advance of any conditions for accessing materials.
We offer a remote advice service, with suggestions on fiding aids and sources.
We also do our best can provide help and advice on the day of your visit where we can.
We ask visitors to follow some rules to help us preserve the archives for future generations.
You should only bring what you need with you:
• You may bring the following with you into the searchroom: laptop, tablet, mobile phone or camera (all on silent), and notebooks.
• No coats, bags or umbrellas – please leave in the lockers provided in the Archives foyer
• No pens, please use pencils only
Everyone visiting the City Archives has a responsibility to preserve them.
There are some general practices that should
be followed by
everyone:
• No sanitiser or hand cream
is allowed
in the search room. Please wash your hands before entering the search room.
• Gloves should not
be used
in the search room.
The exception to this is when handling photographs, in this instance we will provide powder-free nitrile gloves
.
We allow the use of hand-held cameras, phones, tablets or laptops to take still images of documents.
We are unable to offer self-service copying facilities.
We can provide copies of documents but we may need to seek permission of the copyright or collection owner before we do so
. If the item is fragile, we may be unable to copy it due to the risk of further damage.
The archivist will explain any copying restrictions.
We are bound by various statutes and agreements which affect access to some records. There may be restrictions placed on records by private depositors.
Some records may
be closed
to protect personal information in line with data protection law
. This includes:
School records, admission registers and log books (from 30 to 75 years)

Poor Law applications (75 years for adults, 100 years for children)

Police personnel records (75 years)

Adoption or looked-after children records (100 years)
Glasgow City Archives preserves and grants access to the historical records of Glasgow and the West of Scotland
.
We are keen to accept further gifts and deposits (on long-term loan) of records of historical significance
.
We accept material from the geographical area of the former Strathclyde Region.
This may exclude material relating to an area served by an established and approved local archives service
. In this instance we will accept these collections if:
The owner or depositor has expressed a definite wish that they

are held

in Glasgow

The items are an integral part of an existing collection

Are of regional or national significance and Glasgow is as natural a location for them as any other
Please contact us to arrange an assessment of the collection(s) and decide whether we can take them or not.
0141 287 2910 archives@glasgowlife.org.uk
Glasgow City Archives has a variety of finding-aids. The archivists will guide you to the most appropriate place to help you find what you're looking for.
Catalogues
Catalogues contain detailed descriptions of archives according to where they came from and when they
were created
. You can consult these catalogues in the search room.
Indexes
General Index: A large card index by name (personal and corporate), place and subject.
Building Plans Index: A large card index of architectural plans from 1870s -1912.
Databases
A large number of databases for family and architectural historians, most of which can only
be accessed
in the search room
.
These include Poor Law, registers of policemen and church registers for the family historian, as well as
a number of
databases detailing architectural plans
.
There are
a number of
Online Resources for Archives to help you gain access to a wonderful documentary heritage which spans eight centuries
.
Visit our guide for a broad overview of some of our main collections.

A one-stop shop for online and in-person resources for the family historian.

View our policies associated with the preservation and management of all records.
Related items
A guide to Special Collections held at the Mitchell Library
Give feedback about this page