Ask the Archivist - Cemeteries and crematoria
Posted on 26 October 2020
Our next topic was a popular and important one: records of burials and cremations. The Q&A is below.
Q1: Where were people buried in medieval Glasgow?
Local authorities have been responsible for opening new cemeteries since the late 19th century and have also acquired the responsibility for earlier burial grounds. From medieval times, the burial of the dead was almost exclusively in local churchyards and funerals were handled by the community, with no religious presence. By the early 19th century, churchyard burial had become a public health concern in Glasgow following population growth and outbreaks of typhus and cholera. In 1925, responsibility for the maintenance of Church graveyards was transferred to local authorities. Subsequently, purpose-built cemeteries were used.
Q2: What is the earliest burial record you hold?
One of the earliest burial records we hold is a lair register for Gorbals Burial Ground dating from 1722.
Q3: What records do your holdings include?
Along with daily interment registers, which record every burial in the cemetery on a daily basis, we also hold lair registers which include the details of everyone buried in a particular grave. Lair registers will generally give the name and address of the lair owner as well as details of all the interments.
Q4: How do I find Commonwealth War Graves?
Glasgow's cemeteries include many commonwealth war graves. Sandymount Cemetery alone includes around 180 Commonwealth war graves. You can search the Commonwealth War Graves website.
Q5: How do I find where someone is buried in the city?
To find a burial, you will need the name and exact date of death of the person you are searching for. Death certificates can be accessed on the ScotlandsPeople website (charges apply). You may also find clues in newspapers death notices or obituaries. There is no index to the burial records and they are arranged chronologically by date of burial. Individuals are often buried closest to their last address, so a note of the address/area of the city they lived in can provide a starting point to search first.
Once our normal service resumes you can visit to search the burial records we hold. If you are unable to visit we can undertake paid research on your behalf. Please note, there is a waiting list for this service which will be longer than normal due to the pandemic and our service closure. To be added to our waiting list please email archives@glasgowlife.org.uk
Q6: When did cremations start in Glasgow?
Cremation was rarely used in Scotland until the twentieth century. In 1893, the Scottish Burial Reform and Cremation Society purchased the land that is now the Western Necropolis. Glasgow Crematorium (also known as Maryhill/Lambhill Crematorium) opened in the grounds of the Western Necropolis in 1895. It is the oldest crematorium in Scotland and the third oldest in the UK after Woking and Manchester. Cremation registers are arranged by the date of cremation and will show if the ashes have been dispersed or interred in the crematorium grounds, or if they were returned to the family.
Q7: Do you have cemetery maps?
While we do hold cemetery maps, most of them show the sections but do not include the lair numbers. You can sometimes find lair numbers on the back of headstones or can contact Bereavement Services for more help in locating a grave. These maps are available at our guide on this site.
Q8: Is the Necropolis Glasgow's oldest burial ground?
No, there were many churchyards in and around the city before the Necropolis was opened in 1833 including Calton Burying Ground and Gorbals Burial Ground. The planning of the Necropolis was begun formally by the Merchants' House of Glasgow in 1831 and it was officially opened in April 1833. Records of the Necropolis include profession, sex, age and cause of death. Of the 50,000 interments only about 3,500 have tombs.
Q9: Do your records include stillborn burials?
Stillborn births were registered from 1939 onwards. Our records do include many stillborn burials. These are often recorded under only the mothers name e.g. 'Mrs Smith's baby,' and are at times not included in the daily register of interments but instead in lair registers or cash books. Once our normal service resumes, you can visit to research the records for a stillborn burial or alternatively, we can undertake paid research on your behalf. Please note, there is a waiting list for this service which will be longer than normal due to our service closure.
Q10: Do your records contain any notable burials?
Yes, many of our records include the burials of notable individuals including boxer Benny Lynch (buried in St. Kentigern's) and Walter Macfarlane, founder of the Saracen Foundry buried in the Necropolis. His memorial is photographed below.
Cemeteries and crematoria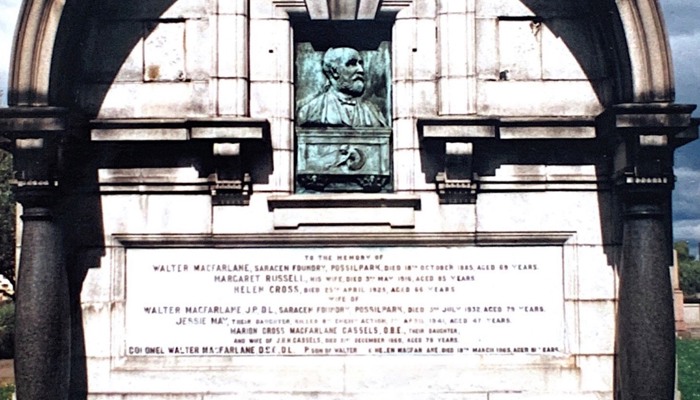 Walter Macfarlane, founder of the Saracen Foundry buried in the Necropolis memorial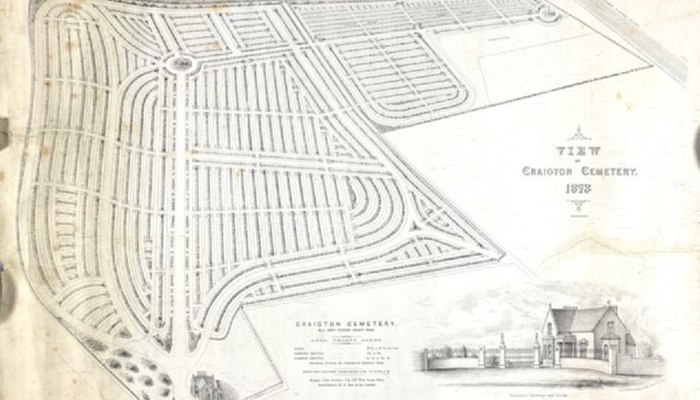 Give feedback about this page