Ask the Archivist - Cinemas
Posted on 17 August 2020
Our next topic was a really interesting one: cinema! Not for nothing was Glasgow called "cinema city". The Q&A is below. You can also read a feature about these records in the Glasgow Times​.
Q1: Where and when was the first cinema in Glasgow built?
At first, moving pictures were shown as a novelty or as part of a larger entertainment like the circus. In fact, the earliest instance of them being shown in Glasgow was in late May 1896 when Arthur Hubner's Real Ice Skating Palace in Sauchiehall St showed its Cinematographe in the background while people were skating. This was a series of seven short films accompanied by an orchestra.
Later, they became travelling shows hosted in existing large spaces such as public halls. But the earliest permanent cinema was Pringle's Picture Palace. Based in the former Queen's Theatre (Calton), it was relaunched as a cinema in November 1907.
Learn more about early Scottish cinema on the Early Cinema in Scotland research project website.
Q2: What was the biggest cinema in Glasgow?
Green's Playhouse in Renfield St was said to be the largest, not only in Glasgow but also in Europe. Completed in 1927, it had a capacity for 4,368 seats and also featured a ballroom. It was opened by George Green Ltd, a family-run business which owned several cinemas throughout the city including Green's Picturedrome (Wellshot Rd) and the New Bedford Cinema in the Gorbals.
Q3: How do I research an individual cinema in Glasgow (such as Govan's Lyric Cinema)?
Find out when and where your cinema was built first. Check out the excellent Scottish Cinemas website for these details. Then, the best place to start in our sources is the architectural plans which include new builds, alterations, change of use and demolitions.
Valuation rolls will allow you to confirm the owner's name and the length of time the cinema occupied a particular site. We also hold a good series of cinema photos in our Deptartment of the City Assessor records (ref: D-CA), many of which are available to view on the Virtual Mitchell.
As cinemas were regularly inspected by the fire service, you can search Glasgow Fire Brigade's fire inspection and prevention registers (ref: TD1431/15/1-9) for them. Finally, we also hold files of licensing correspondence for places of entertainment which cover 1907 – 1971 (ref: E5/28). These are especially useful as they contain detailed descriptions of the buildings and often include plans.
Q4: How do I research a cinema's interiors?
There are one or two photos in our City Assessor records. It's worthwhile checking the records of businesses which may have undertaken work on a cinema's interior as these may include photos, sketches and plans. There are a number of cinema sketches in the records of Guthrie and Wells (interior designers) including those for Elder Cinema (Govan) and the BB Cinerama (Govanhill). The records we hold for Toffolo Jackson and Co. Ltd (manufacturers of floor and wall coverings) are also highly useful for researching cinema interiors.
It's also useful to find out whether the papers or business records of the cinema's owner survive and which archive may hold them. For example, we hold some individual cinemas' records including those of the Wellington Picture Palace in Commercial Road (ref: TD723). The Moving Image Archive holds the papers of George Green Ltd which includes photographs and plans of some of its cinemas.
Q5: What was going to the cinema in Glasgow like during the 1950s?
During this decade, there were still a large number of cinemas in Glasgow which were spread between the city centre and suburban areas. This was the final full decade of the double feature. Adults could see two films in the same visit: the headliner A film and the less well-known B film.
Kids looked forward to their weekly Saturday morning Cinema Club where they sang the club song before settling down to watch cartoons and the latest serial: "We come along on Saturday morning / Greeting everybody with a smile…". A standout cinema experience for many children came in June 1953 when their school took them on a trip to the local cinema to watch the film of the Queen's coronation.
Q6: What happened to Glasgow's former cinema buildings?
After WWII ended in 1945, attendance at cinemas began to decline and the 1960s and 1970s saw many cinema closures. Sometimes the buildings were demolished but often they were converted for another use. Many former cinemas became bingo halls including the Astoria (Possil Road), the Lyceum (Govan) and the Ascot (Anniesland).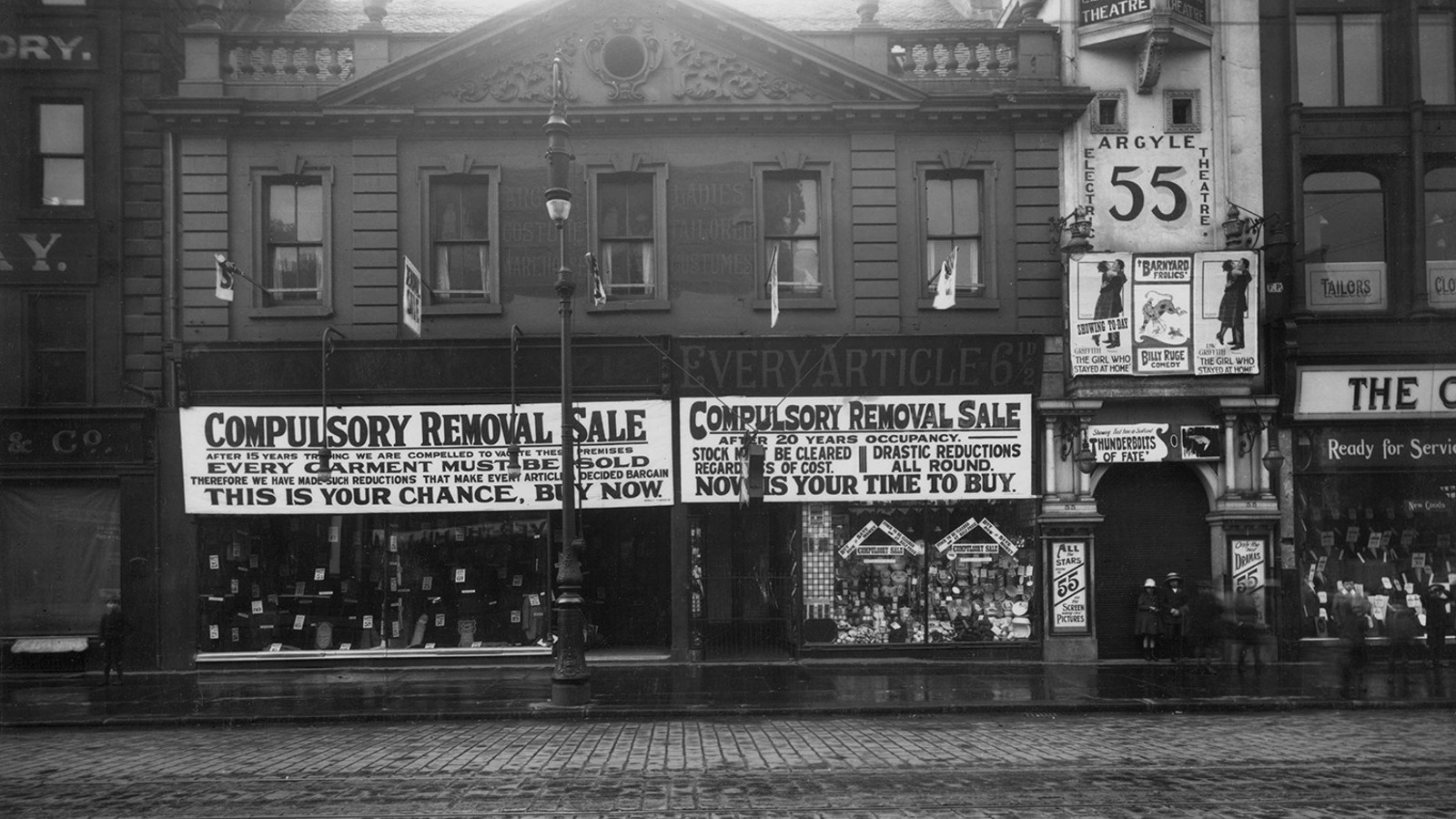 Give feedback about this page