Ask the Archivist - Libraries
Posted on 07 September 2020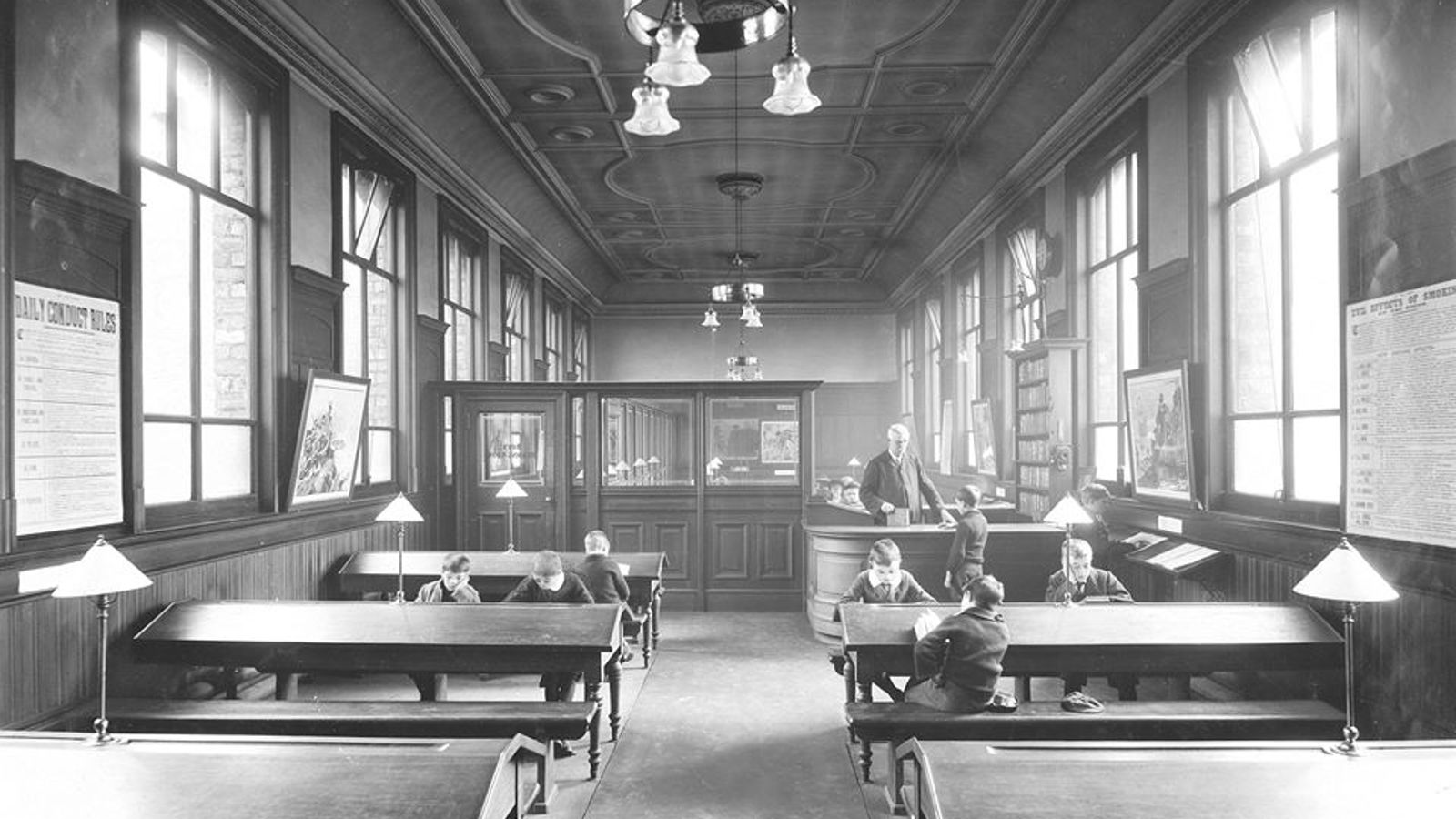 Our next topic was something very close to our hearts: libraries! The Q&A is below. You can also read a feature about these records in the Glasgow Times​​.
Q1: How many original Glasgow Corporation public library buildings still exist?
The original network of branch libraries was created during 1901 – 1907. These were Gorbals, Kingston, Anderston, Woodside, Maryhill, Dennistoun, Springburn, Parkhead, Bridgeton, Hutchesontown, Govanhill & Crosshill, Pollokshields and Townhead. Kinning Park joined in 1905.
Most have survived. Dennistoun, Govanhill, Maryhill, Parkhead, Pollokshields and Woodside have been used as community libraries. The original buildings for Bridgeton, Hutchesontown, Kingston and Springburn still exist, although they no longer form part of the city's library system. Anderston, Kinning Park and Townhead were demolished.
Q2: Were they only open to men at first?
They were open to men, women and children though they each used separate spaces. General reading rooms were reserved for men while women used the Ladies Reading Room. Kingston Library's juvenile reading rooms had a Boys Room and a Girls Room. Parkhead Library even had a separate Children's Entrance.
Q3: Weren't there free public libraries in Glasgow before 1901?
Yes, but the Glasgow Corporation network libraries were the first to be supported by local rates. Stirling's Library and Campbell Library both began as independent free public libraries. These later joined the Glasgow network in 1912. Walter Stirling (merchant and town councillor) bequeathed the funds, premises and stock to set up a free reference library in 1791. In 1844, Campbell Library (later to become Pollokshaws Library) was a subscription library.
Q4: Which original branch libraries were Carnegie libraries?
The Scots-born philanthropist Andrew Carnegie gifted £100,000 to Glasgow when the city first began to plan its new network and some of this financed the building of these libraries. Seven of them were designed by the architect J. R. Rhind: Bridgeton, Dennistoun, Govanhill & Crosshill, Hutchesontown, Maryhill, Parkhead and Woodside. An existing Carnegie library, Kinning Park, came in when that burgh joined Glasgow in 1905.
Q5: How do I research former Glasgow Libraries staff?
Check the Corporation annual lists of its (mainly white-collar) employees, 1925 – 1970. These record each employee and their salary. Researching a librarian who worked 1904 – 1956? Check the professional staff salary books. Later staff records are restricted for data protection reasons. The Libraries' annual reports (1948 – late twentieth century) highlight achievements of named librarians, trainee librarians and library assistants. Finally, you're in luck if the staff member you're researching worked during 1929 or thereabouts! Part of D-LB includes a volume of coloured and pencil caricatures of public library staff.
Q6: How do I research the history of an individual library?
Find out when and where a library was built. Check out our architectural plans first. Many early libraries were the subject of architectural competitions. While we don't hold many unsuccessful entries, we do have some 1905 submissions for The Mitchell.
Glasgow Corporation's admin and financial records will help provide extra detail. There are various minutes for the general Corporation (until 1975) and the Libraries Committee, 1874 – 1910. The annual reports and the Libraries Accounts, 1874 – 1959 will also help.
Use the Glasgow Corporation Libraries Dept records (ref: D-LB) when researching earlier libraries. The new library openings files (1906 – 1931) include unexpected details like the catering for Partick Library's opening in June 1925 (tongue sandwiches for anyone interested!). The correspondence relating to the reading rooms' and libraries' management (1897 – 1915) is useful. As is a 1907 photographic survey of the new libraries (available on the Virtual Mitchell).
Q7: What unusual features do Glasgow's library buildings have?
There are a few to choose from! Two have interior murals painted by GSA students. There's the large Battle of Langside mural in Langside Library. Possilpark Library has six showing the areas of human knowledge: Science, Astronomy, Geography, Poetry, Commerce and Art. Maryhill Library has a beautiful wrought-iron spiral staircase in its interior. Elder Park's stone balustrade has the figures of a shipwright and draughtsman flanking the Govan burgh arms. This is a reminder that both the library and the area's shipbuilding reputation were built during Govan's independence from Glasgow.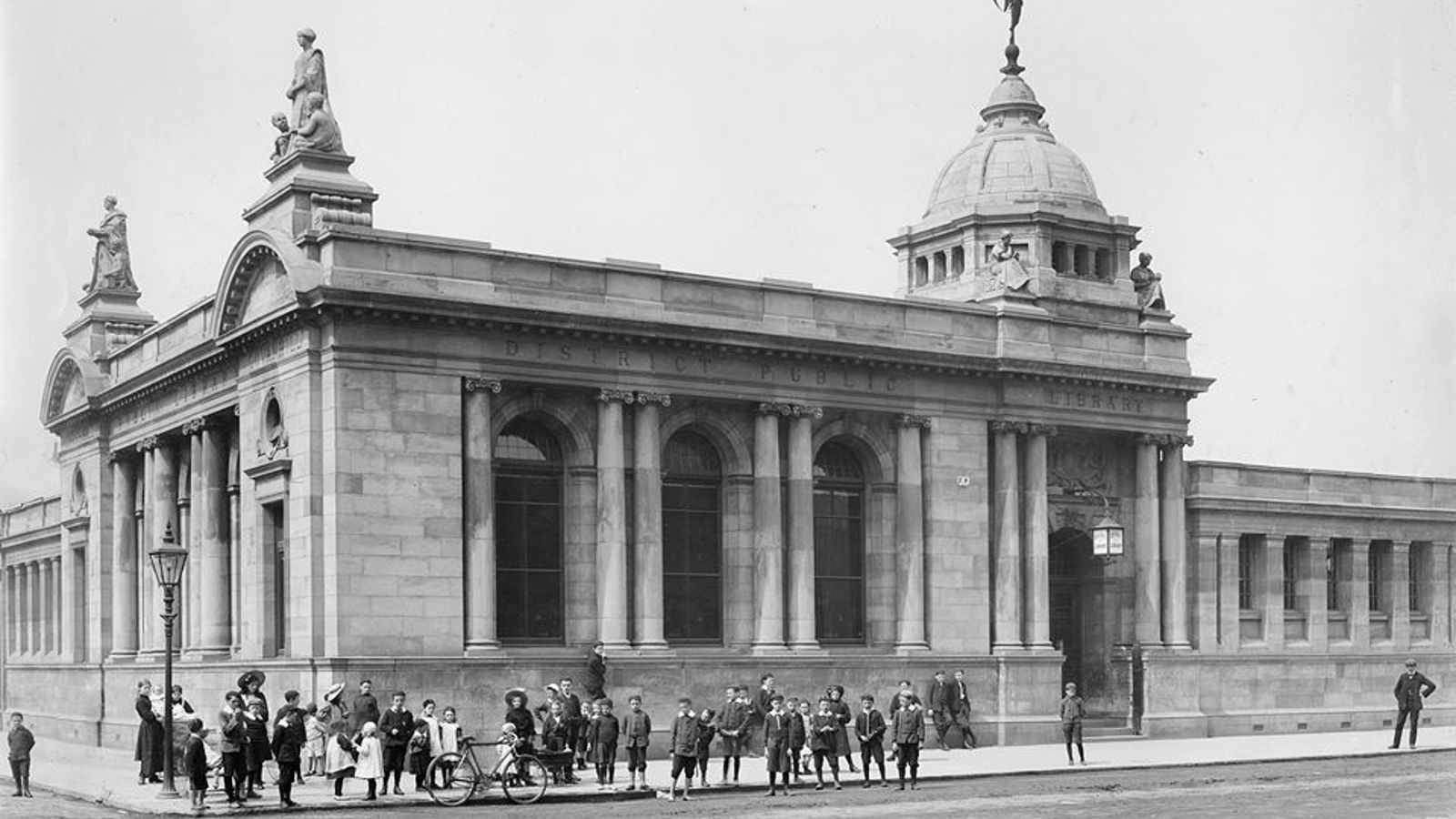 Give feedback about this page