Ask the Archivist - Pubs and licensing
Posted on 03 August 2020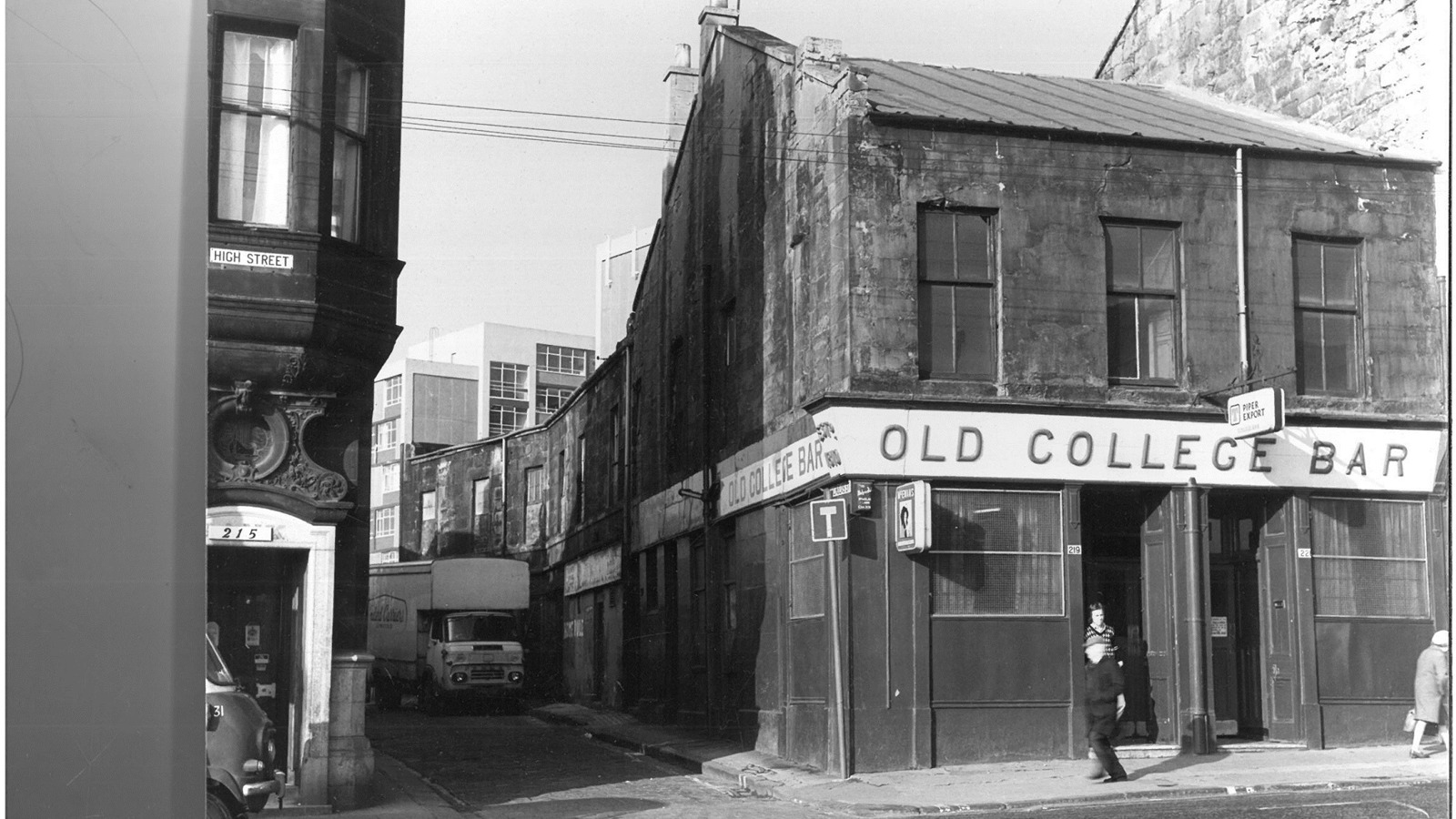 Our next topic was a very important one for Glasgow: pubs and licensing! The Q&A is below. You can also read a feature about these wonderful records in​ the​ Glasgow Times​.
Q1: How do I find details of my ancestor in the licensing records?
The registers from the Burgh Court are arranged by date, listing the address, name, and occupation (usually a spirit dealer, change-keeper or publican). They date from 1779 up to 1968, but there are some gaps in the series – see our guide for more details.
Before searching it's useful to have approximate dates and possible addresses of your ancestor's business. Post Office Directories and valuation rolls are often helpful in confirming details like addresses. Bear in mind that some entries may refer to shops, spirit and wine dealers etc rather than 'pub'.
Q2: What is the oldest pub in Glasgow?
This is a very hotly debated question! It's complicated as over time some pubs have changed venue or became something else like a shop before becoming pubs again. As the names of pubs are rarely given in records it's also hard to verify any claims.
Two regular contenders are the Old College Bar as parts of building date from the 16th Century (although it wasn't a licensed pub till the 1800's) and The Scotia which has been running on Stockwell St for over 200 years. The Saracen's Head is a strong contender too, with an entry in the records dating 1792, although it has moved addressed several times since.
Q3: Why can't I find the details in the Burgh of Glasgow court records?
If your ancestor's pub was in Govan, Partick or Pollokshaws before these areas amalgamated into Glasgow in 1912, then check the registers for these separate burghs. The dates covered are - Govan Burgh, 1904 to 1912; Partick Burgh, 1902 to 1912; Pollokshaws Burgh, 1904 to 1912.
Q4: Did the temperance movement impact licensing?
Glasgow, like many cities, had a strong temperance movement and institutions like Cranston's Waverley Hotel were established to offer an alternative to pubs. After several bills to limit the consumption of alcohol, 1913 saw the introduction of The Temperance (Scotland) Act, with what was called the 'veto poll'. Electors could vote to ban licensed premises in their area, becoming 'dry' areas. Cambuslang was one such 'dry' area in the 1920 veto poll.
Private consumption of alcohol in homes and hotels offering drinks with meals was still permitted, so the impact was limited and the licensing court continued as before.
Q5: How do I find the name of my ancestor's pub?
Unfortunately, it's unusual to find the name of the pub in the records, which is why photos, newspapers and local or family anecdotal information can provide further clues! Many pubs are named after owners like Edward McGinley's on Garscube Road or Samuel Dow at Mitchell Street.
Q6: How do I locate my ancestor's pub?
Addresses are recorded in the licensing registers and the licensing court kept maps. If the street name has changed or the street has been demolished, then its worth checking the three volumes of maps that mark the location of pubs in different wards dating from 1902 to 1913 (ref: B8/13). OS maps are another great source for finding old locations of pubs.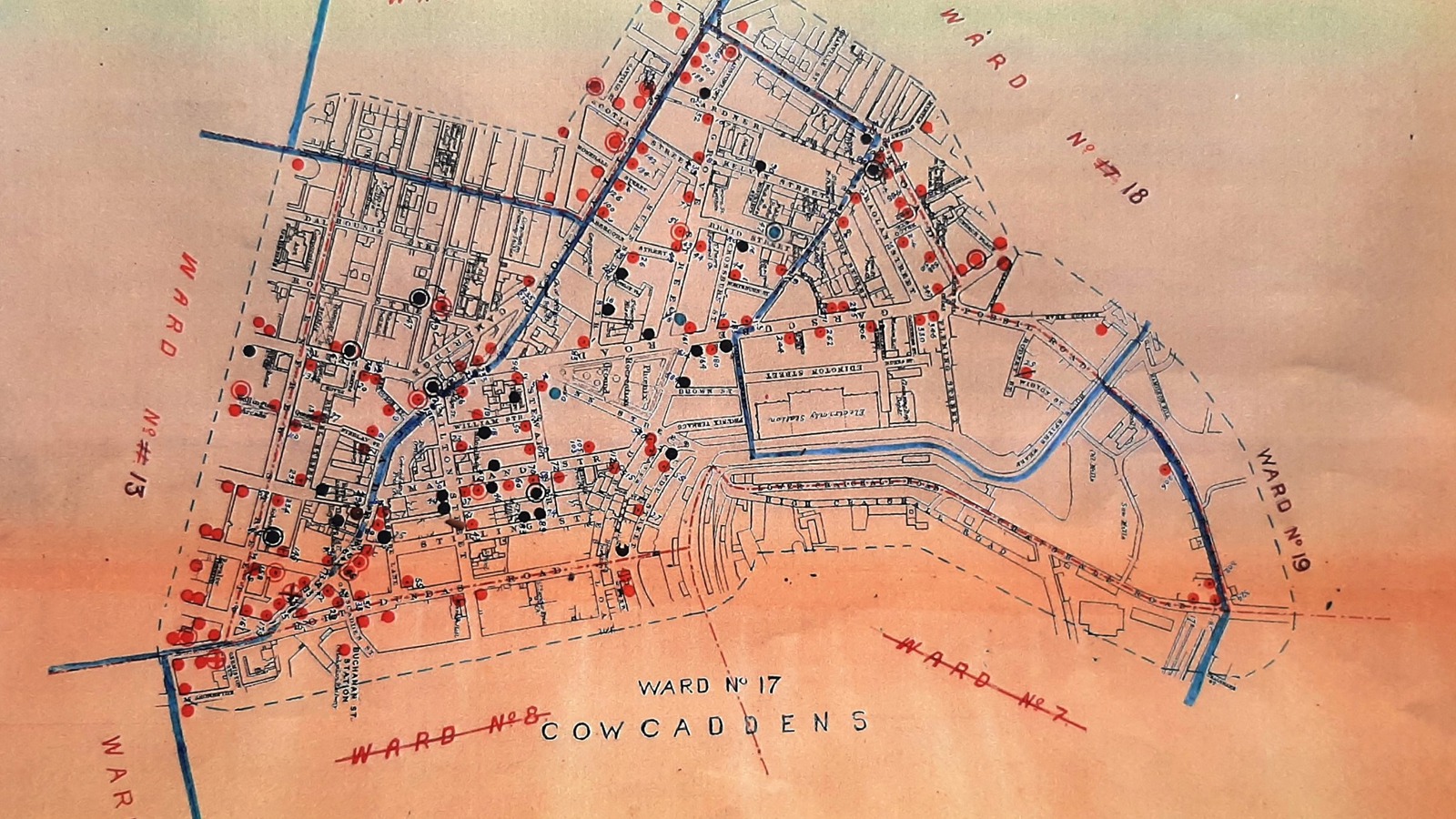 Give feedback about this page