Ask the Archivist - School records
Posted on 23 June 2020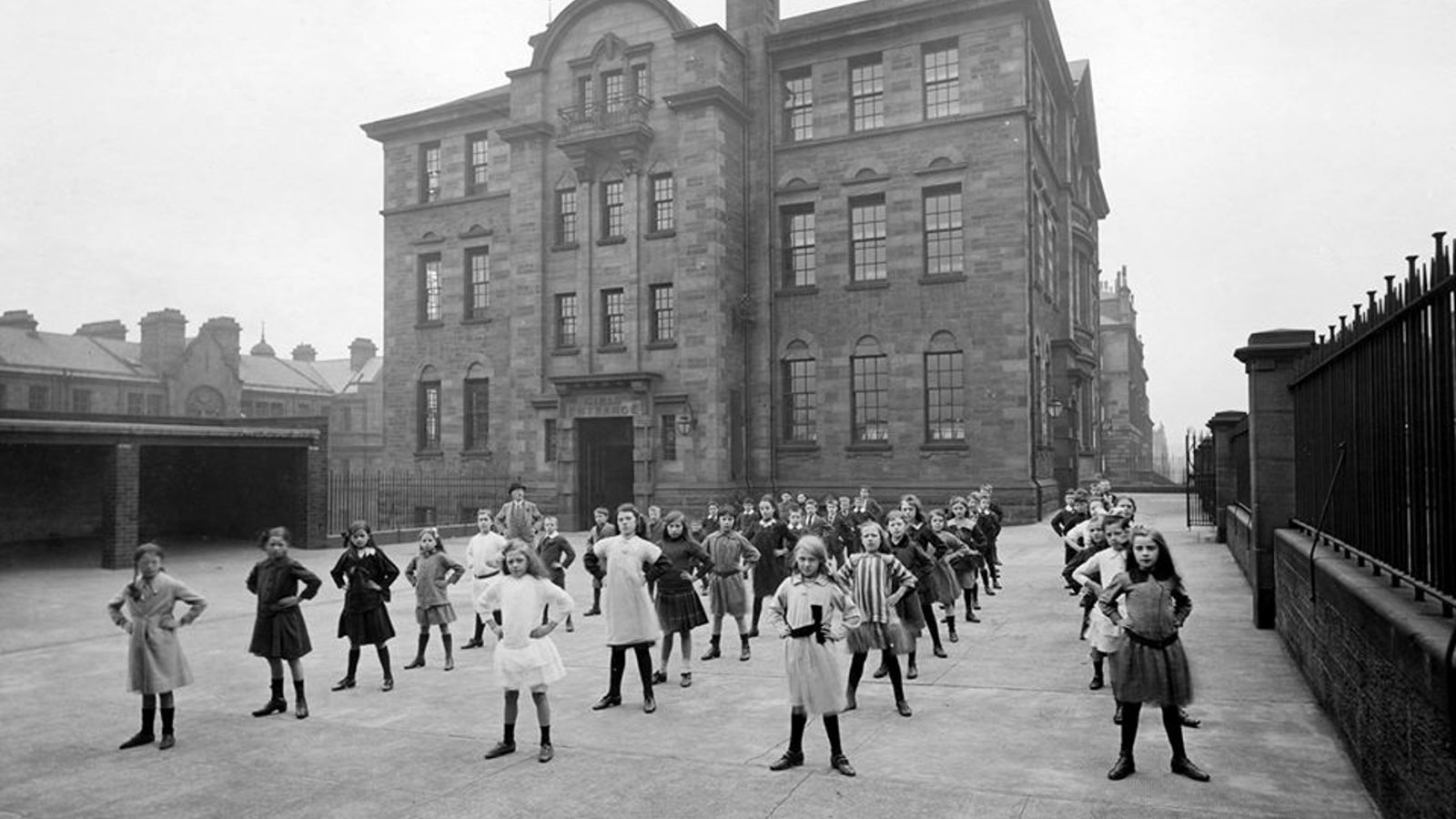 Our next topic was a fantastic resource for family historians: school records! The Q&A is below. You can also read a feature about these wonderful records in
the Glasgow Times
​.​
Q1: When do school records survive from?
The Education (Scotland) Act 1872 established School Boards across Scotland and made education compulsory for children aged 5-13
. The Act came into effect in 1873 and most of our records date from after this period.
Before 1873 there are very few school records in our collections, with some exceptions such as the Glasgow School for the Deaf and Mossbank Industrial School
.
Q2: What type of school records do you hold and what information do they provide?
School records
mainly
consist of admission registers and log books:
Admission registers are the main source of pupil information.
They can contain the following information about each pupil: name, date of birth, address, date of admission and date of leaving
.
Some registers contain sensitive information about pupils, for example the results of IQ tests
. These registers
are closed
for 75 years. We can organise for copies to
be made
once our normal service resumes.
Log books – these are journals kept by the head teacher and include information such as staff and pupil absence figures, fire drills and visitors to the school
. Some logbooks include comments about teachers and pupil teachers (trainee teachers). Yet you very rarely find information about individual pupils within these records. As log books may contain sensitive information, these
are closed
for 50 years.
Q3: How can you determine which school someone went to?
The key piece of information you need is their address. Children were usually educated at the school closest to their home address. Glasgow City Archives we have a map on which we have plotted the location of the Glasgow schools.
This lets you determine the closest two or three schools to the person's home address, after which you can check the records of that school for any relevant entries
.
Q4: What were industrial schools?
Industrial schools
were designed
(particularly in the early period with day industrial schools) to prevent juvenile delinquency, not as a response to it
. 
The distinction between inmates who had committed offences and those perceived to be at risk of committing offences was not
clearly
drawn until 1854
.
Further legislation in the 1860s permitted the sending of juvenile offenders, as well as children 'who have no guardian or whose guardians are neglecting them' to such institutions
. The schools began to operate on a residential basis.
Q5: Do you have records of teachers?
Yes, Glasgow City Archives holds records of teachers including: lists of Masters and Mistresses dating from 1874, registers of pupil teachers, teachers appointment books, lists of teachers on military service, 1917 - 1918 and teacher record cards dating from 1913 - 1985
. Log books for individual schools usually list teachers
annually
. Find out more from our guide.
Q6: Do you have records of private schools?
Our records are
largely
for 'Public', i.e. local authority schools.
They do include Glasgow High, now a private school, but a Glasgow City Council school until 1975 and John Neilson School, Paisley, which was
formerly
a private institution
. We also hold the records of Park and Laurel Bank Schools, which have always been private.
Q7: Do you have records of Catholic schools?
Yes, the 1918 Education (Scotland) Act brought Roman Catholic schools under the state system and as a result their records
are included
in our holdings
.
Q8: Do you have records of schools outwith Glasgow?
Yes, our holdings include schools across the former Strathclyde region. This includes the areas of Bute, Dunbartonshire, Lanarkshire and Renfrewshire. These are not as comprehensive as the records for Glasgow.
Q9: Did boys and girls attend different schools?
While there were certain boys and girls schools for example St. Peter's Boys School, there was no rule in place meaning boys and girls had to
be educated
separately
and most Glasgow schools admitted both boys and girls
.
Q10: Do you have any famous entries in your admission records?
Yes!
Our records include the admission registers for Allan Glen's School featuring the admission of actor and writer Dirk Bogarde
.
Those for Whitehill Secondary include the admission of Scottish comedian and actor Rikki Fulton
.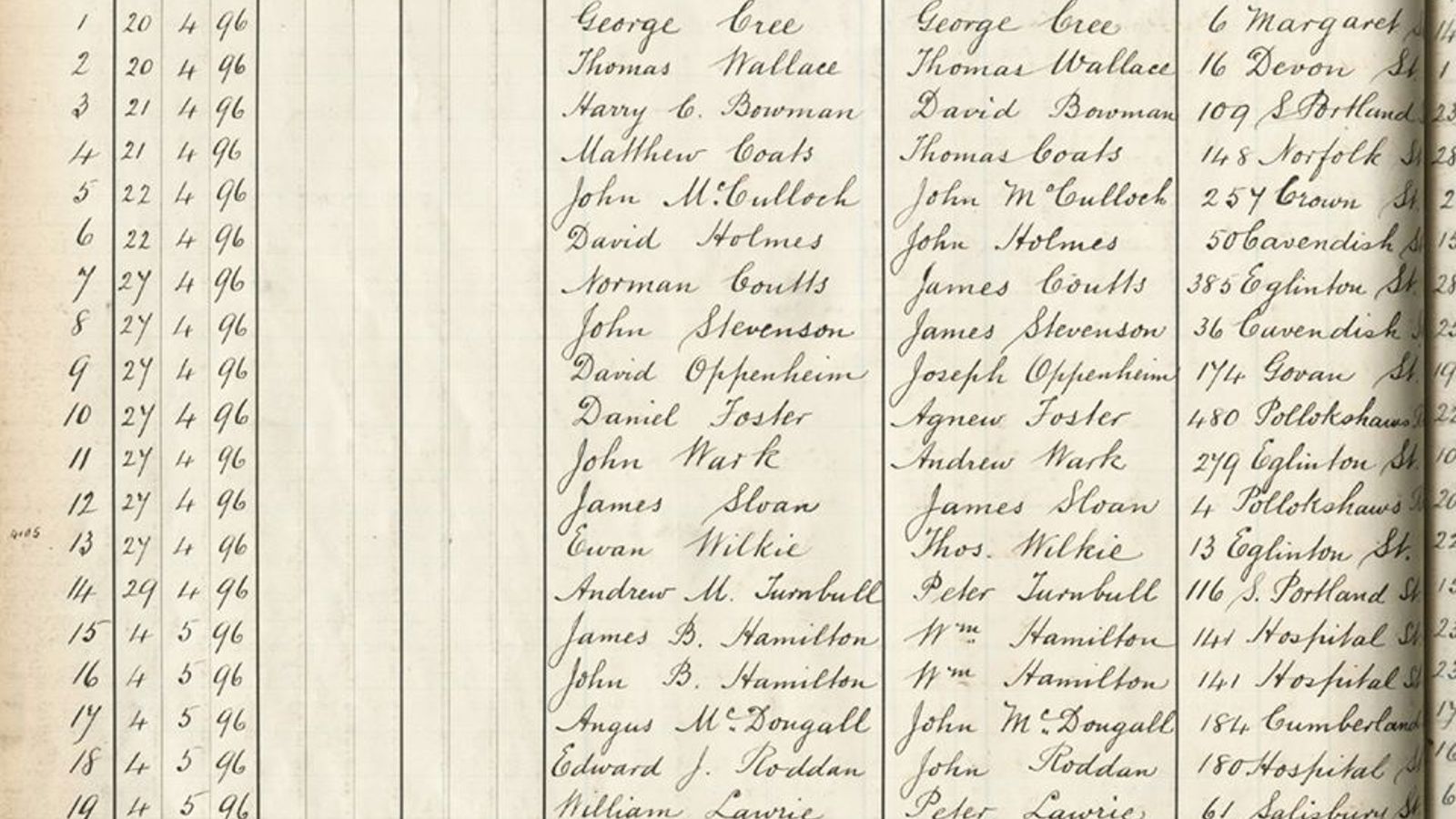 Give feedback about this page