Tenements - Times Past
Posted on 15 June 2023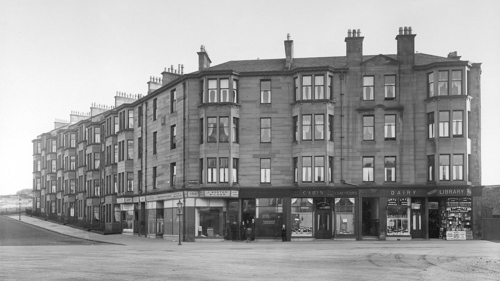 In partnership with the Glasgow Times​, our archivists are exploring Glasgow's fascinating history. This week, Barbara McLean writes about Glasgow's tenements.
Tenement. A word which looms large in the architectural history of Glasgow. Did you know that the word tenement has its origins in the Latin verb tenere meaning to hold? A tenement simply means a holding or a place to live.
But, of course, the Glasgow tenement means much more than that to those who've lived in them. They've been the bedrock of so many childhoods, of family life and of the student experience in the city. Those built between 1885 and 1920 are also well represented in our collections especially in our architectural plans and photographs.
There have been tenements in the city for centuries. But what we now consider traditional tenements had come into being by the mid-nineteenth century. They were domestic dwellings which had more than one storey (typically four) and all the houses (flats) contained within them could be reached by a common entrance and stair. The common hallway and stairs formed the close.
When viewed from the street, the frontages of Glasgow's tenements are stunning. They're built of polished ashlar which gives a uniform look to tenements built in different years. The colour of this stone also reveals when they were built. The honey-blond stone of Glasgow's older surviving tenements was quarried from sites local to the city. After 1890, when better railway links had been established, supplies were sought from further afield. Quarries in Ayrshire and Dumfriesshire yielded the red stone from which post-1890 tenements in Glasgow were built.
Tenement houses themselves varied in size. At their smallest, they formed a single room. Originally, this was intended only for use by a single person or couple. However, over time, larger families occupied this single room which acted as kitchen, bedroom(s) and living space combined. This type of tenement house formed the basis of the famous lecture, "Life In One Room", by Glasgow's first full-time Medical Officer of Health, Dr James B. Russell.
Some houses comprised a room and kitchen, the extra room often being saved for special occasions and entertaining visitors. Larger tenements might have two, three or four rooms in addition to the kitchen, such as those built in Hyndland. This area almost entirely comprises four-storey tenements built between 1898 and 1910 and has some lovely examples of art noveau leadlights inset into the houses' doors and close windows. Hyndland also has many examples of wally closes, so called because their lower half is decoratively tiled.
Many tenement blocks weren't fully residential as some were built with shops on the ground floor including these tenements on Newlands Road (pictured in around 1910). This design feature hails back to an earlier version of tenement living, before 1800, when the ground floor boasted an open arcade at street level. Protected from the inclement Glasgow weather, pedestrians could window-shop in peace.
Our collection of architectural plans includes many original drawings of the tenements. They're beautiful, as much works of art as the tenements themselves, and are particularly popular among those who live in Glasgow's tenements today.
Give feedback about this page