1951 Festival of Britain - Times Past
Posted on 20 September 2023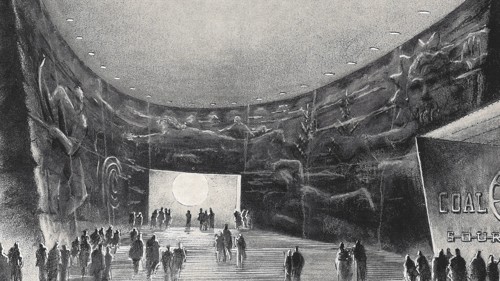 In partnership with the Glasgow Times, our archivists are exploring Glasgow's fascinating history. This week, Michael Gallagher writes about the 1951 Festival of Britain.
Nationwide events like the Queen's Platinum Jubilee are dotted throughout history. One such occasion occurred in 1951 with the Festival of Britain.
The Festival was timed to celebrate the centenary of the Great Exhibition of 1851 and, in the spirit of post-war renewal, aimed to promote a positive image of Britain as a nation emerging from the hardships of war into a period of hope and opportunity.
Artistic, cultural and sporting spectacles were held across the UK, and Glasgow played a prominent role as an official Festival of Britain centre.
The city organised a huge programme of events throughout the summer of 1951. These included a series of concerts at St Andrew's Hall, a summer carnival at Glasgow Green and screenings of the winning entries from the International Amateur Film Festival, which took place in Britain for the first time.
Sport was well represented too, with spectacles ranging from athletic meets to dance competitions. The most prominent event was the St Mungo Cup football tournament, which was won by Celtic.
At the heart of Glasgow's offering was the intriguingly named Exhibition of Industrial Power, held at the Kelvin Hall. The exhibition aimed to showcase Britain's past achievements in industrial engineering and explore opportunities in the future. "This is a show for everyone", proclaimed the official guide with an optimistic flourish, "bringing the drama of the steelworks, the engineering shop and the shipyard under one roof."
The exhibition brought together scriptwriters from film, radio and television, as well as scientists and architects, to present Britain's industrial accomplishments as a "spectacular" story. It contained 11 themed halls, introduced by the Hall of Power, which included a floor-to-ceiling mural of a coal cliff – the biggest piece of public sculpture executed in Scotland at the time.
Visitors could also explore the Hall of Coal (shown above) - where they experienced "the thrill of going down a coal mine in a pit cage", and the Hall of the Future, which looked at new developments in atomic energy that would determine "whether we are entering an age of undreamed-of plenty and comfort, or whether we are working out our complete extinction." We still haven't answered this conundrum!
Unfortunately, the Exhibition only attracted half of the expected 500,000 patrons despite a reduction in the price of admission during its run. Organisers attributed the disappointing attendance to its focus on instruction rather than entertainment and, almost unbelievably, Glasgow's good summer weather which kept people outdoors.
Despite this, Glasgow's efforts received the royal seal of approval. Princess Elizabeth visited the city in May and later sent a letter to the Lord Provost, thanking him for the "beautiful jewel" presented to her on behalf of the people of Glasgow, "which will remind her of a memorable day spent in the city."
Give feedback about this page