City Chambers - Times Past
Posted on 1 November 2023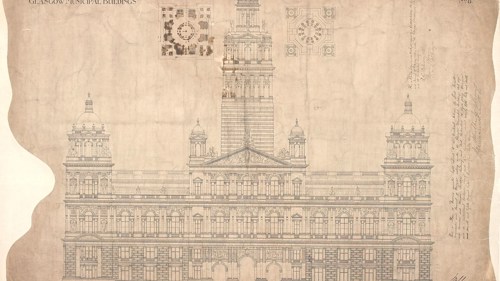 In partnership with the Glasgow Times, our archivists are exploring Glasgow's fascinating history. This week, Nerys Tunnicliffe writes about the City Chambers.
Located at the centre of Glasgow the City Chambers has been a grand and splendid headquarters for the city council for more than 130 years. Its lavish design was fully intended to demonstrate Glasgow's wealth and growing status from its booming trade and industry at the end of the 19th century. We are fortunate to care for the building's plans and the records for its conception.
With its large Carrara marble (imported from Italy) staircase, mosaic tiled vaulted ceilings, and pillars of Aberdeen granite and polish red Scottish granite topped with green marble the interior of the chambers still wows visitors as they step over the City's coats of arms mosaic on the floor of the entrance way.
Originally a competition was held to design the chambers, and 125 entries were submitted. London based architect William Young won as his plans were felt to properly showcase the prosperity of Glasgow, whilst providing the space that the Town Council had desperately needed for many years.
In the city's earliest times, after it became a burgh run by Bishops in 1175, meetings were probably first held in the Bishop's Castle that stood near to the Cathedral. By the 15th century the Town Council met in a Tolbooth, on the corner of High Street and Trongate. Along with council meeting rooms it included a prison and booths for rent collection.
In 1625 the old Tolbooth building was in such bad repair it had to be torn down and a new Tolbooth erected. In the meantime the Town Council held meetings in the Tron Kirk until the new Tolbooth was reopened. However, it was soon apparent that the new Tolbooth was too small for the council and all its increasing functions. Although further chambers and offices were built on the site, the Tolbooth was sold off in 1814 and sadly today the steeple is all that remains of it. The Town Council moved to what is now the Justiciary Buildings at Jail Square, then in 1844 to Wilson Street, and finally to Ingram Street in 1874. Every move was caused by the requirement for more space, so when they finally moved to George Square the council wanted the design and size of the new chambers to be right.
With the winning design decided, the laying of the first foundation stone on 6 October 1883 by Lord Provost John Ure was marked by a public holiday. A crowd of 600,000 people watched, some from surrounding rooftops, as skilled workers and masons marched to the event. Hugh crowds gathered again when, almost five years later, Queen Victoria attended the inauguration ceremony, and the topmost stone was laid. The first council meeting held in the new City Chambers was on 10 October 1889, and meetings, events and more still take place in the grand setting to this day.
Give feedback about this page