Hillhead - Times Past
Posted on 18 October 2023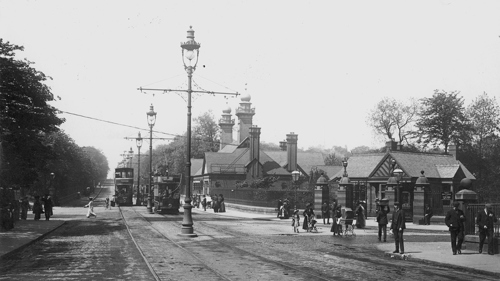 In partnership with the Glasgow Times, our archivists are exploring Glasgow's fascinating history. This week, Michael Gallagher writes about Hillhead burgh.
If you stroll down Byres Road or the leafy lanes nearby, you might feel like you have left Glasgow entirely and there is a reason for this: Hillhead was once an independent burgh.
In the early 19th century Hillhead was a quiet area, remote from Glasgow and slow to develop. It was helped by two main factors. First was the creation of the Great Western "Turnpike Road" in 1836, which improved access to the city. New development and affluent residents followed.
Hillhead's expansion continued and, in 1869, its residents moved to gain police burgh status - a peculiarly Scottish way for "populous places" to take more control over their affairs.
The effort was led by local papermaker Robert Bruce, who, along with ten fellow residents, petitioned the Sheriff of Lanarkshire to make Hillhead a burgh. Their original proposal took in the whole of Kelvinside and Dowanhill but this was met with a series of objections. For instance, the minutes reveal that "the feuars of Dowanhill are all but unanimous in their opposition", fearing increased taxes.
After several hearings, Hillhead was declared a burgh on 15 June 1869. Its renegotiated boundary took in 3654 inhabitants and ran along University Avenue in the south to Ashton Lane, then up Byres Road and across Great Western Road to meet the River Kelvin at the Botanic Gardens, where it followed the path of the river eastwards and down into Kelvingrove Park.
With burgh status secured and Robert Bruce elected as its first provost, the Hillhead commissioners set about their work. Their first act was to put the streets in order, fixing cobbles and repairing the pavements. They formed committees for functions like watching and cleansing, and even devised a complete sewerage and drainage system.
Neighbouring Glasgow often accused the surrounding burghs of administrative incompetence (crucially, these areas blocked its development) but this could not be levelled at Hillhead, which some observers described as a "model burgh".
The second factor that shaped Hillhead's development was the arrival of the University in 1870. This, when mixed with the predominantly middle class residents, lack of industrial nuisance and plentiful greenspace and amenities, contributed much to its character.
Despite Hillhead's distinctiveness, moves were made to subsume the burgh into Glasgow almost as soon as it achieved independence. In 1885, some inhabitants submitted a memorial to the government asking to be annexed to their larger neighbour, stating that they represented "the views of the great mass of the wealthier classes of the people who, while forced to leave the City for better and more healthy residences in the outer ring of greater Glasgow, still cherish the ambition to preserve their connection with the city."
Eventually, Hillhead was swallowed up by Glasgow in a major boundary extension of 1891, which also took in other peripheral burghs such as Maryhill, Crosshill and Pollokshields, doubling the city's territory.
Although Hillhead existed for only 22 years as an independent burgh, it cultivated a character of its own that can still be felt today.
Give feedback about this page