HMS Carrick - Times Past
Posted on 23 August 2023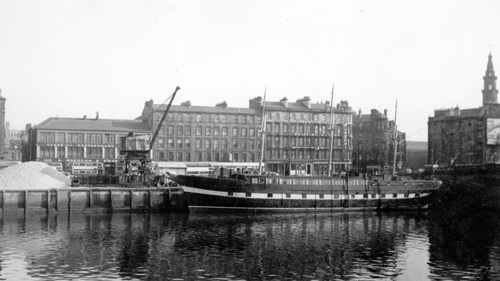 In partnership with the Glasgow Times, our archivists are exploring Glasgow's fascinating history. This week, Michael Gallagher writes about the Carrick or City of Adelaide.
For decades Glasgow was home to an unusual floating landmark. Docked in a prime city centre location was HMS Carrick, the world's oldest surviving clipper ship.
Even older than the famous Cutty Sark, the Carrick had a long career with many different lives. Built in Sunderland in 1864, she was initially named the City of Adelaide and sailed the route between the UK and South Australia.
Between 1864 and 1887 she made 23 return voyages from London and Plymouth to Adelaide, transporting goods such as wood and copper but also, more importantly, people. The ship played a vital role in the settlement of Australia and it is estimated that a quarter of a million Australians can trace their roots back to her passengers. During this period she was captained by the colourful David Bruce who, according to one account, "stumped around on a timber leg".
The City Archives holds a copy of a diary written by a passenger who sailed on the ship's maiden voyage. The account of Miss Bray (described as "an accomplished young lady" who had undertaken a Grand Tour of Europe in the manner of wealthy people of the day) gives a flavour of life on the ship, including evening dances, the sighting of whales and dolphins and, unfortunately, lots of sea sickness.
Later, the City of Adelaide worked as a cargo ship in the North American timber trade and in 1893 entered a grim chapter in her life when she was bought by the Southampton Corporation and used as a floating hospital to control infectious diseases at the southern port.
Such a demotion would spell the end for many ships, but the City of Adelaide enjoyed a new lease of life after the First World War when she was taken over by the Admiralty and converted into a naval training ship. It was then that she was renamed HMS Carrick (to avoid confusion with a new naval cruiser named Adelaide) and moved to her new home in Greenock.
The ship looked doomed once again at the end of the Second World War when she was scheduled to be broken up. However, the new Clyde Division of the Royal Naval Volunteer Reserve stepped in and transformed the octogenarian clipper into its floating clubhouse. The Carrick arrived in Glasgow in 1948 and stayed for more than 40 years, first at Custom House Quay, then just along the Clyde next to Victoria Bridge. It is in this stage of her life that many Glaswegians will remember her fondly.
Her existence was threatened yet again after sustaining damage in a flood and then sinking, and the cost of the required repairs caused a dispute between various interested parties that lasted for years. Eventually, she was rescued by an Australian volunteer group, given her original name back and sailed across the globe one last time to Port Adelaide. She is now a visitor attraction in the South Australian city – a fitting final act for this notable honorary Glaswegian.
Give feedback about this page