La Pasionaria - Times Past
Posted on 15 February 2023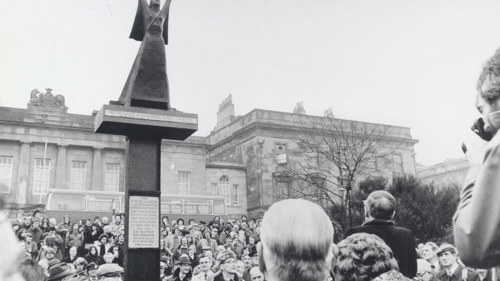 In partnership with the Glasgow Times, our archivists are exploring Glasgow's fascinating history. This week, Michael Gallagher writes about the statue of La Pasionaria and the Spanish Civil War.
Each morning (when I'm feeling energetic) I cycle into the City Archives along the River Clyde and always sneak a look at one of Glasgow's most interesting statues.
Perched atop her plinth at Custom House Quay, arms in a defiant skywards salute, stands Dolores Ibárruri, Communist heroine of the Spanish Civil War. Also known as La Pasionaria (The Passion Flower), Ibárruri was an inspirational orator, and her monument is inscribed with one of her most famous exhortations: "Better to die on your feet than live forever on your knees".
The rest of statue's dedication pays tribute to courage of those men and women who travelled to Spain to fight Fascism during that country's civil war, between 1936 and 1939. What it does not mention is that the statue itself nearly caused another civil war, of sorts, within Glasgow District Council.
A bitter dispute between Labour and Conservative groups on the Council surrounded the creation of the monument and shows that controversy around statues is not just a modern phenomenon.
Council minutes reveal a heated exchange between members, with Conservatives accusing Labour of "clandestine manoeuvres" by delegating responsibility over the matter to an obscure committee and erecting the "horrid monument to a horrendous hag" in the small hours of a December morning to reduce the chance of protest.
The row rumbled on until after its unveiling on 23 February 1980. Conservatives organised a small counter-demonstration and vowed to continue to fight for Ibárruri's removal from the Quay, with one councillor suggesting she be replaced by Winston Churchill. More than 40 years have passed and there La Pasionaria remains, still standing firm.
The Spanish Civil War broke out after General Francisco Franco launched a military uprising against the democratically elected Republican government in 1936. The conflict developed into an ideological struggle between Socialism and Fascism and captured the imagination of the Anglophone left. Ernest Hemingway and George Orwell famously travelled to Spain to fight for the Republican cause, and they were joined by more than 2000 volunteers from Britain.
Glasgow City Archives holds numerous records relating to the war including the death certificate of one such Scottish volunteer, George Drever. What makes this unusual is the fact that George did not actually die in the conflict. The Republican government in Spain issued the certificate in April 1938 after he was lost in action the previous month. However, George was very much alive and returned home after the fall of the Republic in 1939. He eventually passed away in 1996.
Around 500 Scots served with the International Brigades during the war. Of the 134 who lost their lives, 65 came from the Glasgow area, making the banks of the Clyde an appropriate place to commemorate their role in the fight against Fascism.
Give feedback about this page