Queen's Dock - Times Past
Posted on 1 March 2023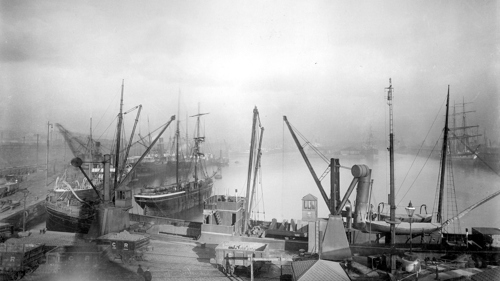 In partnership with the Glasgow Times, our archivists are exploring Glasgow's fascinating history. This week, Irene O'Brien writes about Queen's Dock.
The world leaders that attended COP26 in Glasgow back in 2021 stood on the site of one of the city's most important trading docks.
The Scottish Exhibition and Conference Centre was created on the site of Queen's Dock, centre of the city's world-wide trading operations which helped establish Glasgow as the Second City of the Empire.
Queen's Dock was built upon various lands in Stobcross, which were purchased by the Clyde Navigation Trust. The Stobcross estate was acquired by the merchant John Orr in 1745 and he made major improvements to the old mansion there.
Stobcross House stood on an avenue (after it was widened and straightened) that became known as Stobcross Street.
Orr's son Matthew sold a portion of the estate - which he had named Finnieston in honour of his old tutor, Reverend John Finnie - and the mansion was demolished by 1878. At this point, much of the estate had been sold as the site for Queen's Dock.
In 1874 Barclay and Curle sold their shipyard at Stobhill to Clyde Navigation. Work began on the construction of Queen's Dock, originally known as Stobcross Dock, from 1872. Re-named with the permission of Queen Victoria, she opened the dock in 1877 and it was completed in 1880.
It provided two basins, a hydraulic swing bridge, coaling cranes and brick transit sheds. In total, it comprised around sixty-four acres of quays and water.
The hydraulic bridge included a massive pivot weighing more than eleven tons, on which the swing bridge at the entrance to Queen's Dock rotated. The bridge could support up to sixty tons. It was powered from the hydraulic pumping station built nearby which also supplied power for the cranes installed on the north quay.
The ships sailing from Queen's Dock included those of the Hutchison Line, Burrell & Son, Paddy Henderson, Donaldson Line, Clan Line and City Line.
From 1904 the new Yorkhill Quay built next to the dock entrance accommodated the Anchor Line and the Blue Funnel Line.
A decline in river traffic from the 1950s resulted in closure of the dock in 1969. It was not until almost 20 years later, in 1985, that the Scottish Exhibition Centre opened on the site, becoming a hub for events and conferences which attract delegates and visitors from around the world.
The two domed rotundas mark the crossing by the Glasgow Harbour Tunnel (1890-96) which carried horse-drawn and pedestrian traffic between the Queen's and Prince's Docks and the Finnieston Crane, built in 1932 mainly to load railway engines and tanks on to cargo ships. Both crane and rotundas provide physical reminders of Glasgow's great mercantile history.
Give feedback about this page