Royal Infirmary - Times Past
Posted on 8 November 2023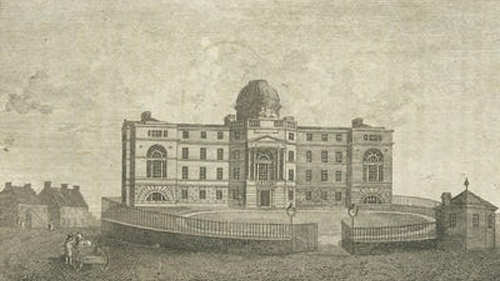 In partnership with the Glasgow Times​, our archivists are exploring Glasgow's fascinating history. This week, Dr Irene O'Brien writes about Glasgow Royal Infirmary.
'Erected for healing of diseases of the poor, with money voluntarily contributed by the inhabitants of this city, and other benevolent people in Scotland' was the inscription on a tin plate inside the foundation stone of the original Royal Infirmary.
With its large venetian window, its four Corinthian columns, and crowned with a 'light and graceful' cupola; it looks such an amazing building.  Whenever I see an image of it, I often think how great if I could have seen it in all its glory.
The foundation for the hospital was laid in May 1792, by the Provost, in the presence of Magistrates, Principal and Professors of the University, in their gowns, with their mace carried before them; the Faculty of Physicians and Surgeons; the Mason Lodges, according to their seniority and other public bodies in front of a large crowd of spectators.  They assembled first in St Andrew's Church, with a sermon by the Minister of St Enoch's, and the procession was preceded by the musical band of the 37th Regiment.
Two crystal bottles cast at the Glasgow Glass House, were buried in the foundation stone. One included coins of the reigning sovereigns. In the other different specimens of the Glasgow muslin manufacturers, a printed copy of the original charter, and a copy of each of the Glasgow newspapers
The Infirmary was built immediately to the west of Glasgow Cathedral on land that held the ruins of the Bishop's Castle, which dated from at least the 13th century.  It had been allowed to fall into disrepair after the Reformation in 1560.  A Royal Charter was obtained in 1791 granting the Crown-owned land to the hospital.
It was designed by the brothers Robert and James Adam and opened to patients on 8 December 1794.  The building had five floors (one underground) housing 8 wards with 17 beds in each. The fourth floor, with the glazed dome ceiling was home to the circular operating theatre, with room for up to two hundred students to observe surgeons performing operations. This area later became the Chapel.
The basement contained cells for the temporary confinement of 'insane' patients, baths, one hot, and one cold, a laboratory, or apothecary's shop, the kitchen, and some other apartments.  Elsewhere in the various stories of the central area contained a large committee room, apartments for the house-surgeons etc.
Over the years to meet to meet increasing demand, several additional buildings were added.  In 1816 a large addition was added at the back, adding four extra wards, raising the total of beds to 298. A specialist fever block was in 1829 and a surgical block in 1860.
It was demolished and rebuilt during the early 1900s.
Give feedback about this page